Ron DeSantis Says He Wants to Do Ballot Harvesting
"We're gonna do ballot harvesting," the Republican candidate proudly told an Iowa voter.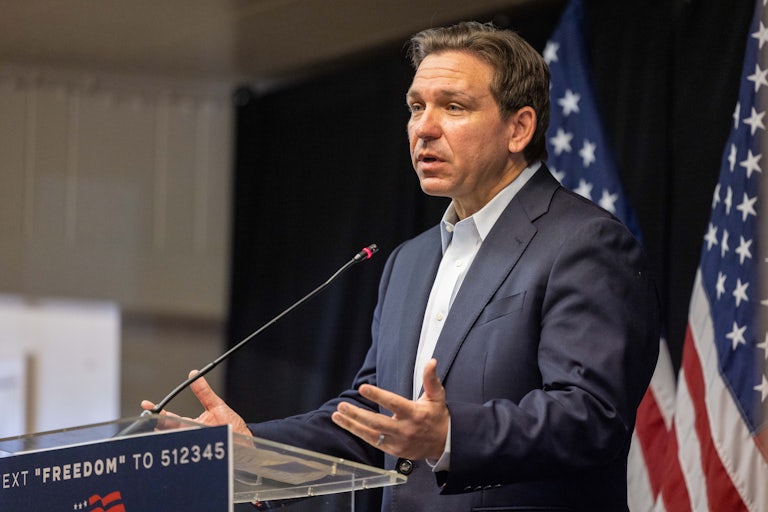 Scott Eisen/Getty Images
Ron DeSantis
On Wednesday, when he wasn't busy snapping like a petulant child at reporters, Ron DeSantis was assuring Iowa voters that he is "gonna do ballot harvesting."
To be clear, ballot harvesting—or what it's known as when not in scare quotes: ballot collection—has long historical precedence in helping burdened communities have their voices heard (and those most burdened by society ought to be heard, so those burdens ideally become less heavy). The practice can help collect the ballots of the elderly, disabled, or those who do not have easy access to polling locations. Consequently, 24 states and Washington, D.C., allow voters to choose someone to return mail ballots on their behalf.
The left has long sought to expand voting access for all voters, no matter their party identification. Republicans, on the other hand, facing loss after loss, have only recently begun to embrace measures like ballot drop boxes and ballot collection. It's often framed as "getting back" at the supposedly cheating left, and paired with more troubling proposals on voting rights.

DeSantis, for example, while telling the Iowa voter of his plans to pursue ballot harvesting, made sure to contrast such a practice with Nevada's, where everyone is sent a ballot, "which is bad."
The oscillation has been championed by the Republican primary leader as well. In February, twice-impeached, criminally indicted, and liable-for-sexual-abuse former President Donald Trump called putting ballot drop boxes "ALL OVER THE PLACE" the "BEST IDEA I'VE HEARD IN A LONG TIME."
DeSantis, though, has been at the forefront of making the case. In April, after a left-leaning judge beat a conservative one by 11 points to give Wisconsin a liberal majority on the Supreme Court for the first time in 15 years, the Florida governor chided Republicans for their "culture of losing." He called on the party to use tactics like ballot harvesting.
"I think you should have ballot harvesting where it's legal and then fight to have the legislatures in those states get rid of it, because that's not the way you should conduct an election," DeSantis said.
Last year, DeSantis signed a bill making ballot harvesting a third-degree felony, punishable by up to five years in prison, a $5,000 fine, and up to five years of probation. Other recent Florida laws have cut the number of ballot drop boxes available to the public and made it more difficult for formerly incarcerated individuals to regain their voter rights (to the point of intimidating them from trying at all).
Instead of calling for ballot harvesting while also working to make it illegal, Republicans could make ballot collection moot by making voting more accessible in general. Until that mythical day that conservatives support more democratic enfranchisement, though, we'll keep seeing Republicans clamoring to reap whatever advantage they can out of an electoral system that already allows them to win elections, and policy outcomes, while barely ever winning the popular vote.