Democratic Mayoral Win in Jacksonville Is a Huge Middle Finger to Ron DeSantis
Donna Deegan will lead Florida's largest city after her victory.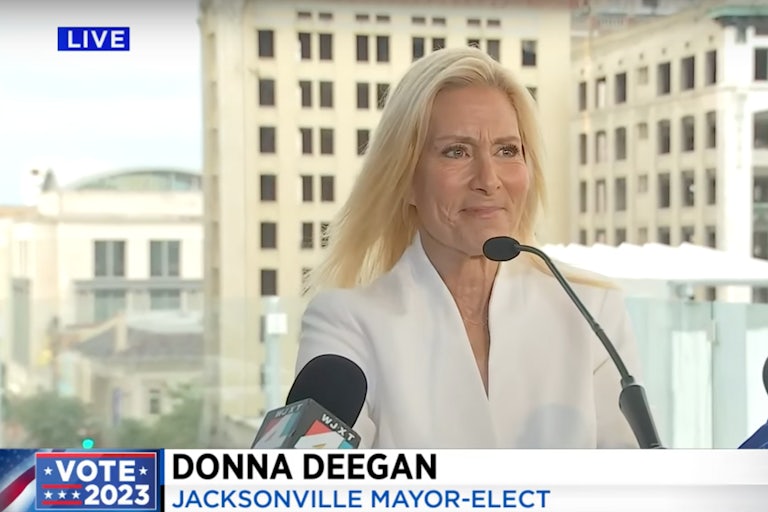 Screenshot courtesy of News4JAX
Donna Deegan became the first female mayor in Jacksonville history.
Jacksonville has only had a Democratic mayor once in the past 30 years. Jacksonville's county, Duval, has voted for Republicans in every election since 1976—until it narrowly voted for Biden in 2020. And now a Democratic candidate will be leading Florida's largest city again.
On Tuesday, Jacksonville made history and sent shockwaves across the state and even country in electing the city's first female mayor in its almost 200-year history: former journalist Donna Deegan. Deegan also beat a DeSantis-endorsed Republican by four points.
Deegan was born and raised in Jacksonville and has been a longtime news anchor for the city, having begun her career as an anchor in 1984. A three-time survivor of breast cancer, Deegan also created the Donna Foundation, which supports local women living with the disease.
Her platform focused on broad topics: "Good Infrastructure," "Good Health," and "Good Economy," but within those buckets, Deegan was not afraid to point to systemic issues that need fixing—from stopping "a handful of well connected people" from benefiting from city contracts, and opening deals up to minority-owned businesses, to fixing crumbling infrastructure in "neglected neighborhoods."
Notably, Deegan's victory comes in the aftermath of an election cycle in which Ron DeSantis cruised to reelection by almost 20 points—in Duval County, DeSantis won by 12. And yet, in this election, DeSantis's own endorsed candidate, Daniel Davis, lost to a Democrat by four. That is a 16-point partisan swing, just since November.
The results are all the more eye-popping when considering that Davis is no political stranger around Jacksonville. From 2003 to 2010, he served on Jacksonville's City Council, even serving as council president from 2007 to 2008. In 2010, he advanced to represent parts of the county in the Florida state House. While serving in the legislature, he also was appointed president of the Jacksonville Chamber of Commerce, a position he has held since.
Up to this point, Jacksonville had been America's largest city with a Republican mayor; now it becomes yet another city that Republicans are growing to be more and more out of touch with. The Republicans deployed the traditional playbook they've grown so used to, and it failed them.
A Davis-approved ad attacked Deegan for saying she attended Black Lives Matter protests after the killing of George Floyd in 2020. DeSantis himself also endorsed Davis as "the proven law and order conservative Jacksonville needs to tackle the city's greatest challenges and seize its biggest opportunities." And as DeSantis continued to whine about and attack the media, Deegan, a former journalist, cruised to victory.
It seems the assumption that such tactics (whipping up racist fearmongering around police reform; attacking journalists) would impress "conservative Jacksonville" in fact played a part in making it reliably conservative no more.
Meanwhile, DeSantis ended the night 0–2 on his endorsement record, as his preferred candidate for Kentucky's gubernatorial race, Kelly Craft, also lost her election to Trump-endorsed Attorney General Daniel Cameron, who famously refused to hold the cops who killed Breonna Taylor accountable.