What Is Andrew Cuomo Thinking With the Launch of a "Progressives for Israel" Group?
This is a bizarre move by the disgraced former New York governor.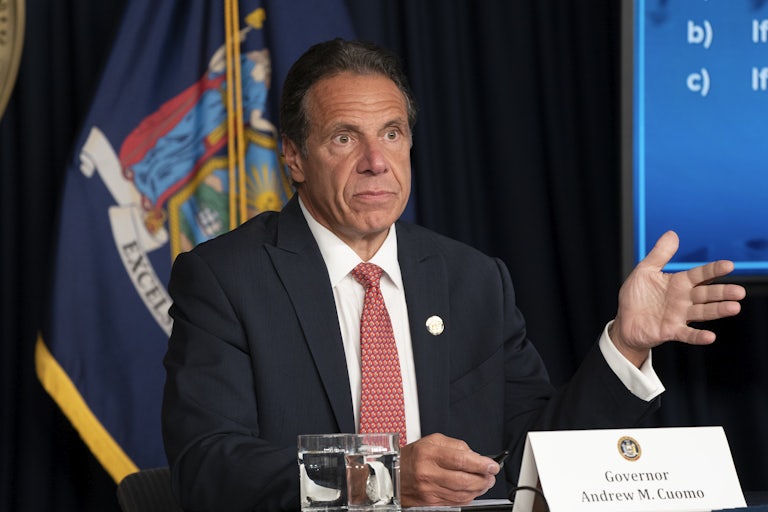 Lev Radin/Pacific Press/LightRocket/Getty Images
While some half a million Israelis protest the country's authoritarian escalation, and while Israel has killed Palestinians at a rate of nearly one every day so far in 2023, disgraced former New York Governor Andrew Cuomo has announced he is launching an organization called "Progressives for Israel."
"You can't denounce antisemitism, but waver on Israel's right to exist and defend itself," said Cuomo in his announcement Monday, linking criticism of Israel to antisemitism. Some view such an equation as antisemitic, as it treats Jews as monolithic in their stances on Israel as a state.
"I'm starting an organization called Progressives for Israel. And I'm going to call the question for Democrats," Cuomo continued. "Do you stand with Israel, or do you stand against Israel? Because silence is not an option."

Cuomo's challenge coincides with waves of protesters both inside and outside of Israel speaking out against Prime Minister Benjamin Netanyahu's efforts to weaken the judiciary's ability to check the power of other government branches—giving Netanyahu's far-right coalition greater ability to oppress Palestinians, and help the prime minister weasel out of his own corruption trials.
Cuomo's puzzling move comes as he reportedly considers taking on Senator Kirsten Gillibrand in the 2024 New York Senate primary—which is all the more puzzling given his recent track record.
Cuomo resigned from the governor's office in 2021 while embroiled in scandal. At least 11 women accused the governor of sexually harassing them during his time in office. Cuomo and his aides also willfully undercounted and concealed nursing home Covid-19 death numbers. He attempted to shield political donors who were hospital and nursing home executives from lawsuits related to Covid. And he allegedly granted special Covid test access during the early phases of the pandemic to family members and other well-connected figures.

Cuomo wrote a memoir amid it all entitled American Crisis: Leadership Lessons From the Covid-19 Pandemic. Cuomo was then accused of using his and his employees' taxpayer-funded time to work on the book that secured him a $5.1 million deal.
When all was said and done, even President Biden called on Cuomo to resign after the reports of the 11 accusers came out. Cuomo's brother and CNN anchor Chris was fired months later, amid an inquiry into his own sexual harassment accusations, and whether he used his television platform to help his governor brother stave off his own accusations.
Even after all the damage Governor Cuomo left in his wake, he announced his new organization. It's not clear what exactly is progressive about tying concern for the welfare and safety of Jewish people to unequivocal support for a state that acts as an occupying force, and which even many of its own citizens deem out of control. What is clear is how cynical the move is, if it is indeed a warm-up to an attempt at a political comeback.
"God isn't finished with me yet," Cuomo proclaimed last year in his first public appearance after resigning in 2021. "I have many options in life and I'm open to all of them," he said during a speech in which he railed against "cancel culture" and the media for apparently being the reason he and his brother faced consequences for their own actions. "Let's make some trouble."
It seems like the trouble has begun.