The Power of Ke Huy Quan's Oscar Win for Everything, Everywhere in a World of Growing Asylum Bans
The actor spent a year in a refugee camp before arriving in the United States. But today it's getting harder for people to claim asylum here.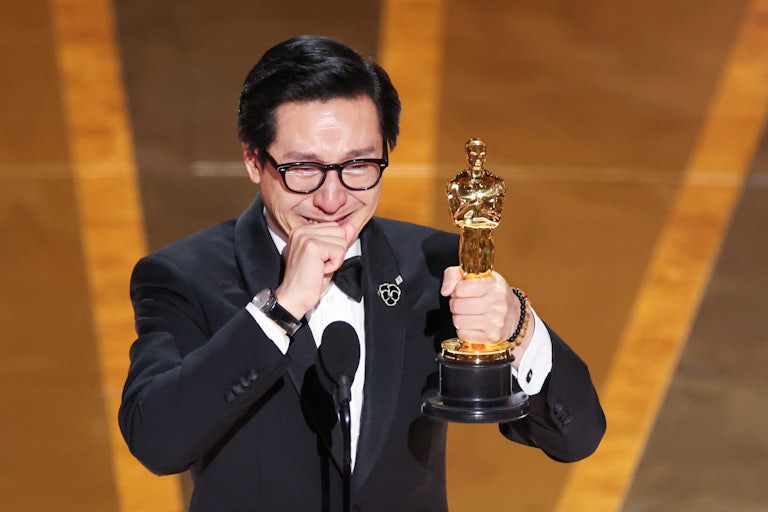 Myung J. Chun/Los Angeles Times/Getty Images
Actor Ke Huy Quan highlighted his background as a refugee while accepting an Oscar for Everything Everywhere All at Once, even as the U.S. government moves to block people with similar backgrounds from entering the country.
Quan won best supporting actor Sunday night for his role in the indie breakout film as Waymond, the patriarch of a Chinese American family trying to keep it together when they are transported on an adventure across universes. He acknowledged his own immigration story in his acceptance speech.
"My journey started on a boat. I spent a year in a refugee camp, and somehow, I ended up here," Quan said tearfully. "They say stories like this only happen in the movies. I cannot believe it's happening to me. This, this is the American dream!"
Quan was born in Vietnam in 1971. Seven years later, his family fled the country, and he, his father, and some of his siblings stayed in a makeshift refugee camp in Hong Kong for a year. Quan's entire family was able to reunite in 1979 when they moved to Los Angeles under the Vietnamese refugee resettlement program.
His historic turn as the second Asian person* to win the best supporting actor Oscar comes just a month after the Biden administration unveiled a sweeping and strident new immigration policy that could prevent other stories like Quan's from happening.
Joe Biden unveiled the new rules in February. The convoluted policy prevents adults or families from receiving asylum in the U.S. if they traveled through another country en route and did not apply for (or were denied) asylum there. The new process to apply for asylum requires multiple steps that are neither obvious nor simple, as well as the use of a phone app that is poorly designed and glitchy.
Democrats slammed Biden and the policy, with many branding it no better than the measures seen under Donald Trump. Since the new rules were announced, the Biden administration has also been reportedly considering other draconian immigration measures, including reviving the Trump-era family detention policy.
Biden's asylum policy is not an exact comparison to Quan's situation, but it will still cut off people who are fleeing dangerous situations from reaching a stable environment. The policy also addresses the immediate concerns of current high immigration levels, instead of trying to address the broader issues creating the need to seek asylum in the first place.
It's worth noting that in Quan's case, the instability in Vietnam was because of the Vietnam War, which dragged on as long as it did partly because of U.S. involvement.

It's also worth noting that Quan's win has been touted as an underdog victory and a movie-worthy comeback—that came as a result of Hollywood shutting him out. After achieving success as a child actor, Quan couldn't get a single mainstream Hollywood role. He left the U.S. entertainment industry for almost three decades before getting cast in Everything Everywhere All at Once.
And then, after filming wrapped but before the movie came out, Quan wasn't cast in anything else. All of the much-deserved praise and new roles he is getting now came after Everything Everywhere was released.
In this way, Quan's comeback story and Biden's immigration policy perfectly demonstrate how good the U.S. can be at shutting out immigrants until they are deemed worthy.
* This article originally misstated the historical significance of Quan's Oscar win.