What Were the Miami Police Thinking With That "Black History Month" Cop Car?
Miami police unveiled a new cop car emblazoned with the words "Black History Month" and covered in images of Africa and raised Black fists.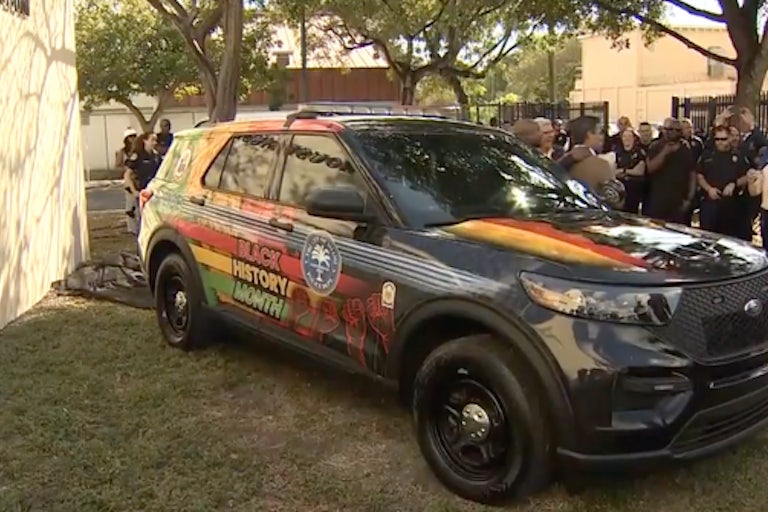 Screenshot/WISN TV
On Thursday, in the dawn of Black History Month and amid nationwide calls for police reform after another flashpoint of police brutality in the killing of Tyre Nichols, the Miami Police Department unveiled its latest expense: a Black History Month–inspired cop car.
The pan-African colored vehicle, adorned with images of Africa and raised Black fists, was in honor of the history and legacy of the Black police precinct—a separate station that closed in 1963—and the officers who served there, reported the Miami Herald.
Mayor Francis Suarez also used the occasion to boast a decrease in complaints made against officers in the past year.
"I'm very proud of the way our officers behave," Suarez said, according to the Herald. "We embrace our history. We know where we came from."
Meanwhile, Miamians are gathering on Saturday to protest the police killing of Antwon Cooper, a Black man. Officials, who have changed their story about whether Cooper was armed, shot the 34-year-old as he attempted to flee a traffic stop. Video does not indicate him carrying a weapon.
Miami's police department, like every other's, is rooted in a history not worth embracing. As Vice pointed out with a poignant example, in 1967, Miami Police Chief Walter Headley coined the phrase "When the looting starts, the shooting starts"—his standing orders to his officers should they face any "civil uprising." Former President Donald Trump paid homage to that phrase in the aftermath of the murders of George Floyd and Breonna Taylor by the Minneapolis and Louisville police departments, respectively:


Indeed, one might hope that police departments everywhere would not "embrace" their history but rather shed themselves of it; after all, even if Suarez was referring specifically to the history of Black cops, the nation just witnessed five of them kill another.