Shocker: Mark Meadows May Be About to Turn Against Donald Trump
Trump's co-defendants seem to be turning on him, one by one.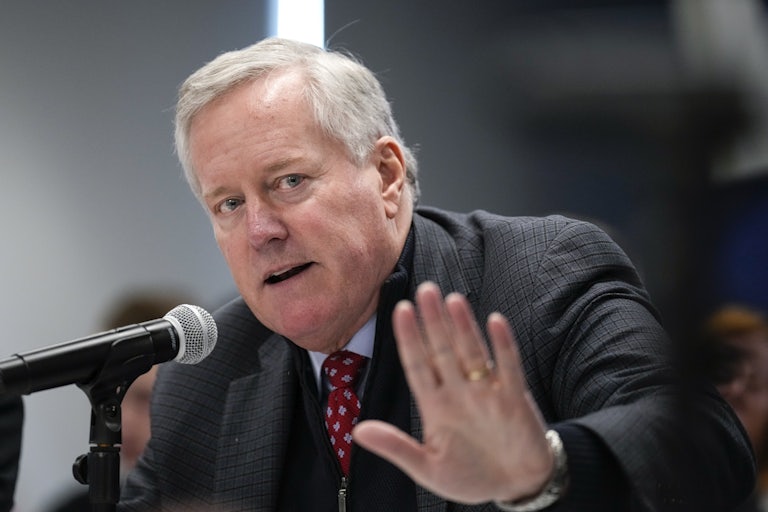 Drew Angerer/Getty Images
Donald Trump's former chief of staff and co-defendant in the Georgia indictment may flip, one of the most high-profile defections from Team Trump yet.
Mark Meadows served as White House chief of staff at the end of Trump's presidency. He was charged alongside Trump and 17 other co-defendants with felony racketeering for trying to overturn Georgia's 2020 presidential election results. At his hearing last week, Meadows's legal team signaled that their main defense strategy will include blaming Trump as the principal force behind efforts to thwart the election, Politico reported Tuesday.
Meadows organized and participated in the now-infamous phone call during which Trump begged Georgia's secretary of state to "find" 11,780 votes—the exact amount needed to flip the state's election results to Trump. Meadows also sent an email pressuring Georgia Republicans to sign slates of fake pro-Trump electors.
"What I didn't want to happen was for the campaign to prevail in court action and not have this [organized]", Meadows said during his August 28 hearing.
When asked why, he explained, "Because I knew I'd be yelled at by the president of the United States."
Meadows has already shown himself willing to undermine his former boss in order to save his own skin. In mid-August, Meadows and former Vice President Mike Pence said separately that they had no knowledge of Trump declassifying a large number of documents, completely undermining the former president's main defense in the Mar-a-Lago case.
Other former Trump allies are also starting to turn. In July, a Mar-a-Lago employee named Yuscil Taveras changed his testimony in the indictment against Trump for mishandling classified documents. Taveras was assigned a new public defender in July, replacing his Trump-appointed lawyer, and "immediately" recanted his testimony denying that there had been any conversations about security footage that prosecutors subpoenaed in 2022 as part of the investigation.
Trump's personal attorney Rudy Giuliani may also soon turn on his boss (who is refusing to pay him). Giuliani met in June with special counsel Jack Smith, who is investigating Trump in Florida for mishandling classified documents and in Washington for trying to overturn the 2020 election. It's not clear what happened during the meeting, but it's not unthinkable that Giuliani may try to reach a deal with prosecutors to save his own skin.