Dark Brandon Unveils Student Loan Repayment Plan That Includes Forgiveness
The Biden administration has launched a new student loan repayment program, after the Supreme Court rejected the last initiative.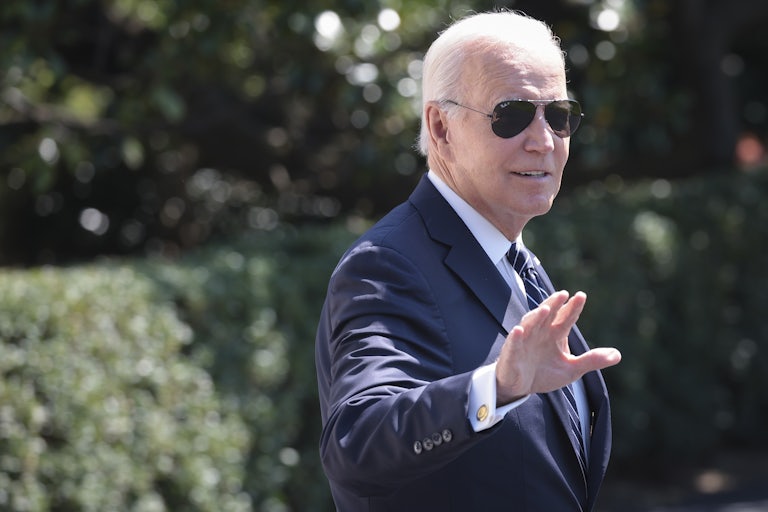 Win McNamee/Getty Images
The Biden administration on Tuesday officially launched a new income-driven student loan repayment program, just months after the Supreme Court struck down its student loan forgiveness initiative. The White House is billing it as the "most affordable student loan plan ever."
The Saving on a Valuable Education plan allows for millions of borrowers to have their monthly payments reduced based on income and family size, caps interest accrual, and forgives leftover balances after a number of years.

Many borrowers, such as a single person who earns less than $32,800 a year or a family of four earning $67,500 or less per year, could even qualify for $0 monthly payments.
"This will allow them to focus on food, rent, and other basic needs instead of loan payments," the White House said in a statement.

"Borrowers will see their total payments per dollar borrowed fall by 40%. Borrowers with the lowest projected lifetime earnings will see payments per dollar borrowed fall by 83%, while those in the top would only see a 5% reduction," the White House added.

A four-year public university graduate can save up to $2,000 per year, according to White House estimates.
The program does not deliver student loan forgiveness at once, as Biden initially sought in his initial plan. The hope for the new repayment program is that some student loan debt can be forgiven more slowly but without interest getting out of hand.
Borrowers can enroll now on StudentAid.gov/SAVE. More benefits of the program are to be launched in July 2024.