Watch Joe Biden Drag Lauren Boebert for Celebrating Climate Bill She Opposed
10/10 for the delivery on this Boebert joke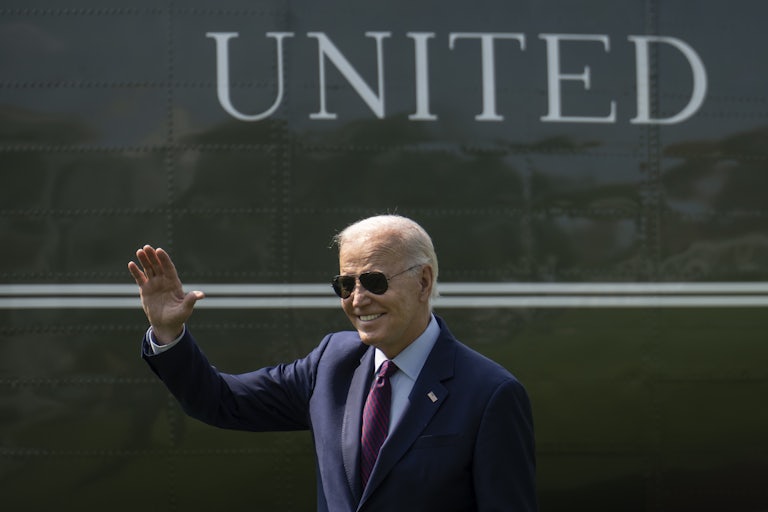 Drew Angerer/Getty Images
Joe Biden dragged Representative Lauren Boebert on Wednesday for celebrating the benefits of his clean energy initiatives after voting against them in Congress.
Biden spoke at the groundbreaking ceremony for a wind tower manufacturing facility in Albuquerque, New Mexico. He hailed advancements in clean energy and how addressing climate change was also creating new jobs. Biden also noted that a wind energy plant for CS Wind is being built in Pueblo, Colorado. Both projects received funding from the Inflation Reduction Act, which almost every single Republican in Congress voted against.
"Coincidentally, CS Wind is Congresswoman Lauren Boebert—you know, the very quiet Republican lady?—it's in her district," Biden said. "Who, along with every other Republican, voted against this bill. And it's making all this possible. And she railed against its passage. But, that's OK, she's welcoming it now."
This isn't the first time Biden has called out Republicans for trying to claim wins from policies they voted against. In June, Alabama Senator Tommy Tuberville celebrated a $1.4 billion investment to expand broadband access in his state, a major tenet of Biden's Infrastructure Investment and Jobs Act.
Biden roasted Tuberville for it, tweeting he would see the senator "at groundbreaking" and later commenting that "to no one's surprise, [the act is] bringing along some converts. People strenuously opposed, voting against it when we had this going on."