Showtime Mysteriously Pulls Documentary on Ron DeSantis's Role in Guantánamo
A Vice episode was set to dig into DeSantis's time as an officer at torture camp Guantánamo Bay. It was quietly dropped.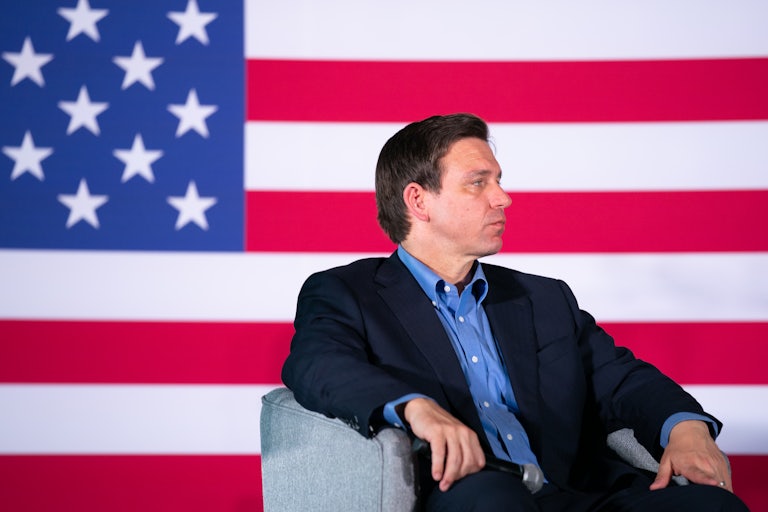 Sean Rayford/Getty Images
Just over a week after Ron DeSantis announced his bid for president, Showtime has mysteriously pulled an investigative episode into the Florida governor's time working at the infamous Guantánamo Bay detention facility.

The Hollywood Reporter reports that the documentary (episode 4 of Vice's fourth season), "The Gitmo Candidate & Chipping Away," was slated for May 28 but was instead replaced with repeat programming. Now the June 4 episode is marked as episode 4.
Mentions of the episode have reportedly been erased from Showtime's website and press portal, as if the episode has not been rescheduled but removed entirely.
"We don't comment on scheduling decisions," a Showtime spokesperson told The Hollywood Reporter.

"As with all current affairs programming, there can be scheduling changes, and we are very much still in discussion about the scheduling of this episode," a Vice representative said, offering little other clarity. "We are proud of our reporting and of our continuing partnership with Showtime."
The episode certainly did not bode promisingly for DeSantis. "Seb Walker investigates allegations from former Guantánamo Bay detainees that Florida Gov. Ron DeSantis witnessed acts condemned by the United Nations as torture during his past service at the controversial detention camp as a Navy JAG officer," an episode description read.
DeSantis has drawn intense scrutiny surrounding his time as a U.S. Navy lawyer overseeing "investigative tactics" (torture) at Guantánamo. It's a background the presidential candidate has been extremely cagey about, emotionally lashing out at the press (shocker) when asked about it.
DeSantis had come to Guantánamo while detainees were conducting hunger strikes in protest of their treatment; DeSantis was tasked with dealing with it.

What did that entail? Well, DeSantis has openly talked about force-feeding as among the mechanisms officers like him would recommend to prison guards. The Florida governor was sent to Guantánamo the same year three inmates died, at the time a record high of deaths in one year at the prison facility. Official reports, including from DeSantis himself, rule the deaths as suicides; many, including a former guard, dispute the idea.
Two former Guantánamo detainees, Abu Sarrah Ahmed Abdel Aziz and Mansoor Adayfi, have both come out with their dark recollections of DeSantis and his real role at the camp.
Aziz said DeSantis promised over and over again to make sure senior officials heard of prisoner's complaints of abuse. Instead, conditions got even worse.
"It was a face I could never forget. I had seen that face for the first time in Guantánamo, in 2006—one of the camp's darkest years when the authorities started violently breaking hunger strikes and three of my brothers were found dead in their cages," Adayfi wrote in Al Jazeera.
Adayfi recalls an instance of being force-fed and seeing DeSantis watching from behind a fence, "smiling and laughing with other officers as I screamed in pain."