Unfortunately, Trump's Trolling of Ron DeSantis's Failed Twitter Launch Is Quite Good
Ron DiSaster has made it so, so easy.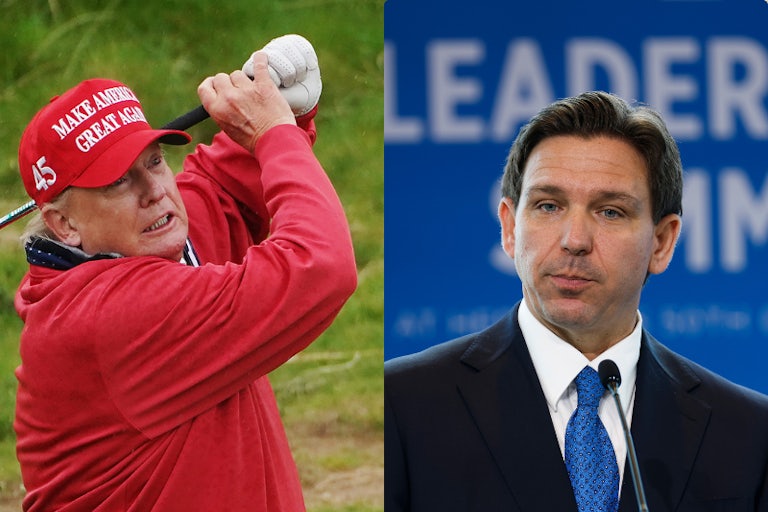 Brian Lawless/PA Images/Getty Images Anna Moneymaker/Getty Images
Ron DeSantis's long-delayed presidential announcement was a disaster. And Donald Trump is cheesing from cheek to cheek.
A Twitter Space with audio glitches, jarring feedback echoes, nervous whispers wondering whether the operation was even working. The DeSantis x Elon Musk x David Sacks collab even fully crashed at one point. The whole affair didn't even begin until 30 minutes later. The content itself was just as embarrassing; a tinny-voiced DeSantis fielded questions from an entirely sympathetic rotating cast, all while sounding like he was reading off bullet points as quickly as possible, lest the whole Twitter Space chat room crash again before he got it all off his chest.
And Trump had a field day with it all.
He was quick to remind everyone how absurd it was that DeSantis was announcing in the manner he did at all:
Someone also helped Trump figure out A.I. voice impersonations, placing DeSantis in a fictional Twitter Space with a cast including the FBI, the Devil, and Hitler (Trump was also able to scratch a far-right itch by including George Soros in the mix):

And he poked fun at a key feature of Musk: Everything he touches soon blows up:
Of course, even if DeSantis somehow had the brain cells to host a "successful" campaign launch, there's more at stake. Everything about his résumé exhibits a destructive man corrosive to social harmony, or society working at all.
But whether it's the decisions of him or those around him, every choice DeSantis has made so far has been downright daffy. Waiting as long as he did to announce. Announcing in the most physically out-of-touch manner—not in his home state, nor even a swing state, but on a website famously eviscerated on the back end. Doing the announcement in a setting in which people can only hear his voice that some may argue is not fit for radio. And all those decisions come while he tries to outdo the twice-impeached, criminally indicted, and liable-for-sexual-abuse former president, while barely criticizing him for any of those faults.
There's a satisfaction in watching the instantaneous collapse of someone as obscenely evil and dramatically uninterested in unity as DeSantis—even if it is prompted by his role model.