How Clarence Thomas Smeared His Own Sister to Gain Right-Wing Cool Points
Lying about money is apparently nothing new for the Supreme Court justice.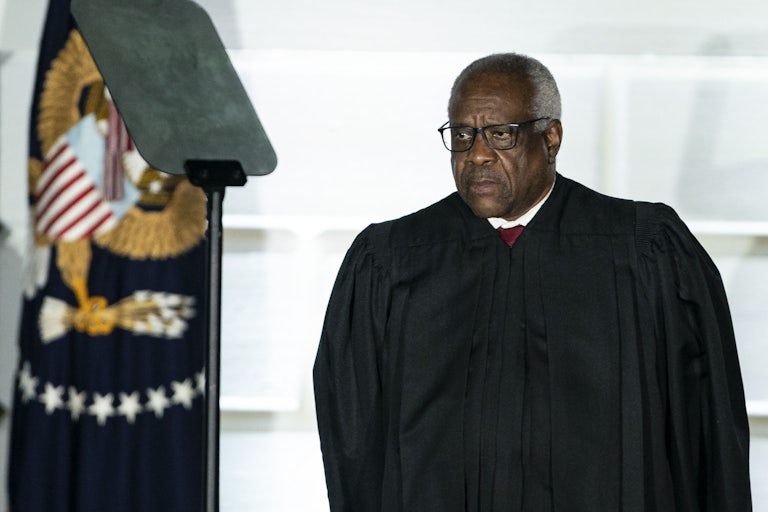 Al Drago/Bloomberg/Getty Images
Supreme Court Justice Clarence Thomas hasn't just lied about his own finances. He also lied about his own sister for political gain.
Thomas is under fire for hiding multiple major financial dealings, primarily that Republican billionaire megadonor Harlan Crow paid for Thomas and his wife to go on decades' worth of luxury vacations. Crow also bought Thomas's childhood home, where his mother still lives, and paid the private boarding-school tuition for Thomas's grandnephew.

The Washington Post also reported Friday that longtime Federalist Society executive Leonard Leo secretly paid Thomas's wife, Ginni, thousands of dollars for consulting work she did a decade ago.

But lying about money is nothing new for Thomas.

Speaking to a conference of Black conservatives in 1980, Thomas described his sister as "dependent" on welfare—and accused her of making her children feel "entitled" to welfare payments instead of being motivated to work. His comments reinforced a negative stereotype popular among conservatives that Black people are lazy and count on welfare instead of their own work, an attempt to set himself apart and advance his career.
But when a reporter tracked down Thomas's sister, Emma Mae Martin, in the early 1990s, he found that nothing could be further from the truth.
Martin was on welfare for four or five years—after she'd had to stop working two minimum-wage jobs to take care of an aunt who had suffered a stroke, the Chicago Tribune reported. Her husband had abandoned her in 1973, her father had abandoned the family nearly three decades earlier, and her brother was busy at law school.
When the Tribune story came out in July 1991, Martin was working as a hospital cook. Her oldest son—named after his uncle—was in the Navy, her second-oldest child was a carpenter, and the third-oldest had just been laid off from a bakery. The youngest was still in school.
Martin seemed unbothered by her brother, who has always made himself out as a modest everyman who pulled himself out of poverty by his own wits and work. But "the realities of Thomas' sister's life are closer to the realities of most poor people," the Tribune said.
It is a story of male abandonment, female sacrifice, and a turning to welfare only temporarily and only as a last resort. It also is a story of an inadequate government safety net for those who struggle at the bottom of society—no day care, no health insurance, no subsidy for the "working poor" whose wages are not enough to lift their families above the federal poverty line.
Thomas's lie about his sister is particularly hypocritical, considering how often he has claimed to be against government aid and welfare. But Thomas and his family have spent decades enjoying free travel, housing, and school that are only offered because he holds a powerful position in the government.