Republicans Want to Remove Endangered Species Protections for the Gray Wolf and Grizzly Bear
After we worked so hard to try to save them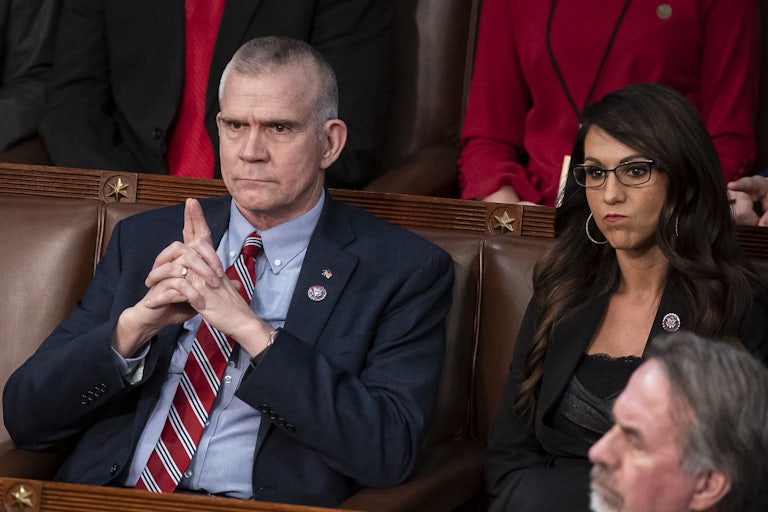 Al Drago/Bloomberg/Getty Images
Representatives Matt Rosendale and Lauren Boebert
Not to be outdone by their push to target the lives of human beings, Republicans want to remove endangered species protections for the gray wolf and the grizzly bear too.
During a House hearing Thursday, Representative Lauren Boebert discussed her bill to remove protections for the gray wolf, claiming the animal is "fully recovered." In reality, last year, a district court judge ruled that the U.S. Fish and Wildlife Service, or FWS, acted improperly when it delisted the gray wolf from the endangered species list under Trump.
Boebert moved on to argue that the Endangered Species Act has been "weaponized by extremist environmentalists to obstruct commonsense, multiple-use activities that they disagree with." Meanwhile, her push to remove protections for the gray wolf has been applauded by organizations including the National Rifle Association and hunting advocacy groups.
Boebert also decided the hearing was the right time to show images of human fetuses, asking colleagues whether they would "put babies on the endangered species list." Boebert's analogy was numerically fraught, regardless of one's personal views on abortion: There are over 330 million people in the country.
For states that have maneuvered around protections, hunters have gone ahead and razed away at the still recovering species. In 2021, Idaho and Montana passed laws to bypass restrictions on wolf hunting; as of February 2022, at least over 500 wolves had been killed since the laws passed, out of a total population of around 2,600. The alarming uptick has also interrupted research into how wolves help shape ecosystems.
Meanwhile, Republican Representative Matt Rosendale has been lobbying the FWS to delist the grizzly bear from the endangered species list too—something the FWS is now doing. Similar to the gray wolf, the grizzly bear has only recently begun to spring back, and certainly not to the same extent as before human-caused overhunting and habitat loss. Grizzly bears are currently classified as "threatened" with extinction.
"Representative Boebert and Representative Rosendale are demonstrating how out of touch House Republicans have become by pushing these cruel, extreme anti-wolf and anti-grizzly bear bills that the vast majority of Americans oppose," said Stephanie Kurose, a senior policy specialist at the Center for Biological Diversity. "Representative Boebert continues to thumb her nose at Colorado voters, who've made it clear they want wolves to return to their state. Meanwhile Representative Rosendale was seen posing with neo-Nazis. They shouldn't be taken seriously on any subject, let alone the future of two of America's most iconic wildlife species."
Rosendale has also introduced a bill to undermine wildlife protections in national forests by enabling the Agriculture and Interior Departments not to revisit land management plans when new information is made available, for example when a species or habitat is designated endangered, or if climate change-induced conditions introduce cause for concern.

"Days after the U.N. climate report's stark warning about the disastrous path humanity is on, Republicans can't even muster the slightest effort to conceal their pro–clear cutting agenda," said Randi Spivak, public lands director at the Center for Biological Diversity. "Instead of these nonserious bills, they should be focused on protecting our remaining mature and old-growth forests, which are one of our most underutilized tools in pulling carbon dioxide out of the air."