The Wildest Things Members of Congress Said During the TikTok Hearing
"Does TikTok access the home Wi-Fi network?"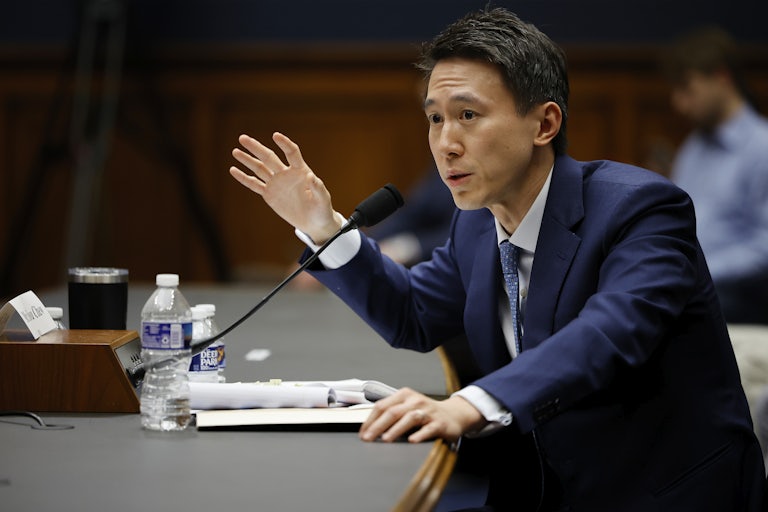 Chip Somodevilla/Getty Images
TikTok CEO Shou Zi Chew testifies before the House Energy and Commerce Committee on March 23.
TikTok CEO Shou Zi Chew testified before the House Energy and Commerce Committee on Thursday to answer questions about the app's data privacy policies.
The Biden administration has ordered TikTok to sell its American operations to a U.S.-based firm or face being banned nationwide, citing national security concerns. TikTok and the broader issue of U.S.-China relations is one of the few topics on which both parties seem united.
Chew fielded—but was rarely given time to answer—questions from Democrats and Republicans alike about data privacy, content moderation, child safety, and potential ties to the Chinese Communist Party. But he was also asked a lot of weirder questions too.
Here are some of the wildest things members of Congress said during the five-and-a-half-hour hearing.

1. North Carolina Representative Richard Hudson asked, "Does TikTok access the home Wi-Fi network?"
"Only if the user turns on the Wi-Fi," Chew replied, visibly confused. "I'm sorry, I may not understand the—"
Hudson: "So if I have [the] TikTok app on my phone, and my phone is on my home Wi-Fi network, does TikTok access that network?"
Chew: "You will have to access the network to get connections to the internet."

2. Texas Representative Randy Weber said, "TikTok is indoctrinating our children with divisive, woke, and pro-CCP propaganda."
That's the whole sentence, yes.
3. Representative Buddy Carter did not understand facial filters.
Carter asked if TikTok used phone cameras to identify body or face data, to which Chew replied that the app does not collect such information. The only facial data TikTok does use is to identify where users' eyes are if they use a filter to appear if they are wearing sunglasses, he said. That data is stored only on the user's device and is deleted after they stop using the filter.
"Why do you need to know where the eyes are?" Carter asked.
4. Representative Kat Cammack asked about a video only one TikTok user commented on.
Cammack shared a clip of a TikTok video in which the user implied they wanted to attack the committee meeting. The Florida Republican said the video had been up for 41 days, before the hearing date was made public, and demanded to know why it hadn't been taken down despite violating TikTok's content policies.
The video had very low engagement and only one comment, meaning it would have taken TikTok moderators longer to find and flag it. It actually started to get more attention online after Cammack shared it. Within minutes, as the hearing was ongoing, the account was banned.

5. Multiple Texas representatives complained about the name "Project Texas."
TikTok has already announced a plan it calls Project Texas to move all of its U.S. data to servers in Texas. The social media company says that doing so will protect U.S. data from any national security threats.
But multiple Texas representatives took issue with the name. "Please rename your project," August Pfluger said. "Texas is not the appropriate name. We stand for freedom and transparency, and we don't want your project."

While this was not the main issue of the hearing, Pfluger's comments are ironic considering Texas has made several moves in recent weeks to restrict its residents' ability to control their own bodies and access information online.