Oklahoma Just Barely Expands Abortion Access to Preserve Life of the Pregnant Person
The Supreme Court ruling still leaves abortion inaccessible for most Oklahomans.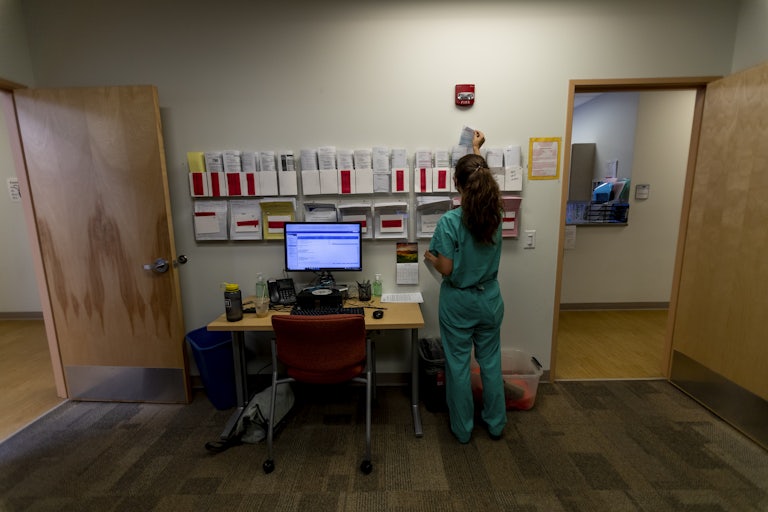 Gina Ferazzi/Los Angeles Times/Getty Images
The Oklahoma Supreme Court ruled Tuesday that the state constitution protects a woman's right to an abortion "when necessary to save her life."
Abortion providers and reproductive rights groups had asked the court to find that the constitution protected a person's right to choose to end a pregnancy. But the justices ruled only on a narrow exception, leaving the majority of the state's tight restrictions in place. This means that abortion is still inaccessible for most Oklahomans.
The majority opinion founded its argument on the constitutional provision guaranteeing that "all persons have the inherent right to life, liberty, the pursuit of happiness, and the enjoyment of the gains of their own industry."
That section "stands as the basis for protecting a woman's right to terminate a pregnancy in order to save her life."
After Roe v. Wade was overturned, Oklahoma enacted a near-total abortion ban, one of the strictest laws in the country. It only made an exception for someone in a "medical emergency." Abortion was also made a felony, punishable by up to 10 years in prison or a $100,000 fine. Individuals could sue anyone who helped provide access to an abortion.
The state Supreme Court struck down that law, ruling that "a woman has an inherent right to choose to terminate her pregnancy if at any point in the pregnancy, the woman's physician has determined to a reasonable degree of medical certainty or probability that the continuation of the pregnancy will endanger the woman's life."
"Absolute certainty is not required, however, mere possibility or speculation is insufficient."
But the court left in place a law passed in 1910 that makes it a felony to intentionally perform an abortion unless necessary to save the patient's life. This means that health care providers will still have to tread incredibly carefully when performing abortions, lest they risk up to five years in prison. And by not ruling on elective abortions, the court's decision means that most abortions are still not an option for state residents.
"The right recognized today is so limited that most people who need abortion will not be able to access it," Emily Wales, president and CEO of Planned Parenthood Great Plains, tweeted. "Providers' hands are still tied by an abortion ban that would make them criminals for providing essential care."
While it's good that Oklahoma now has even marginally increased abortion access, the ruling makes clear that the bar is so incredibly low for abortion wins. And as writer Jessica Valenti has repeatedly noted, abortion law exceptions aren't really about restoring rights at all. "The truth is that abortion exceptions are a lie: A political tool that's more about helping Republicans' public image than making abortion accessible to victims," she wrote in a September newsletter.