11 Good and Normal Things Republicans Refused to Clap for During Biden's State of the Union
Not even giving teachers a raise?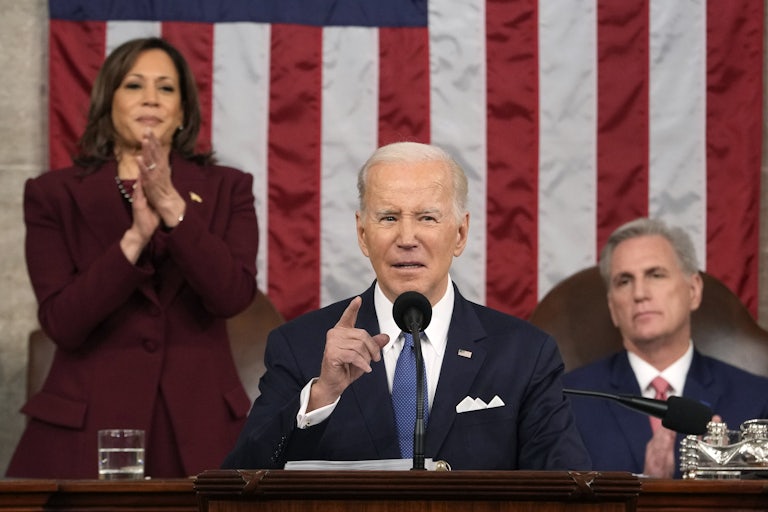 Jacquelyn Martin/AP/Bloomberg/Getty Images
President Biden delivered arguably the most pro-worker, populist, and shrewd State of the Union in modern history. Though the bar on those standards is low, Biden found a way to expose Republicans as reactionary in both demeanor and policy, while still coming off as generally pleasant and focused on offering the American people an affirmative vision for the future.
Meanwhile, as Biden delivered his remarks, Speaker of the House Kevin McCarthy and his Republican colleagues refused to clap for several rather ordinary things millions of Americans support.
From rallying to give teachers a raise, to demanding that insulin be affordable for all, many of Biden's remarks were met with crickets, or even jeers, from Republicans.

Here are 11 of those moments:
1. Democracy
"Two years ago, democracy faced its greatest threat since the Civil War, and today, though bruised, our democracy remains unbowed and unbroken."
2. Making Billionaires Pay Taxes
"No billionaire should be paying a lower tax rate than a schoolteacher or a firefighter."
"[Brandon Tsay] saved lives. It's time we do the same. Ban assault weapons now! Ban them now, once and for all!"
5. Preschool for Kids and Giving Teachers a Raise
"Let's finish the job by providing access to preschool for 3- and 4-year-olds. Studies show that children who go to preschool are nearly 15 percent more likely to finish high school and go on to earn a two- or four-year degree—no matter their background they came from. Let's give public school teachers a raise."
6. A Living Wage
"I'm so sick and tired of companies breaking the law by preventing workers from organizing. Pass the PRO Act, because workers have a right to form a union. Let's guarantee all workers have a living wage. Let's make sure working parents can afford to raise a family with sick days, paid family medical leave, affordable childcare. That's going to enable millions of more people to go and stay at work, and let's restore the full child tax credit, which gave tens of millions of parents some breathing room and cut child poverty in half to the lowest level in history."
7. Jobs
"Two years ago, the economy was reeling. I stand here tonight, after we created—with the help of many people in this room—12 million new jobs. More jobs created in two years than any president has created in four years, because of you all, because of the American people."
8. LGBTQ Rights
"Let's also pass the Bipartisan Equality Act, to ensure LGBTQ Americans—especially transgender young people—can live with safety and dignity."
"Look, the Inflation Reduction Act is also the most significant investment ever in climate change, ever. Lowering utility bills, creating American jobs, leading the world to a clean energy future."
11. Junk fees
"Junk fees may not matter to the very wealthy, but they matter to most folks in homes like the one I grew up in, like many of you did. They add up to hundreds of dollars a month. They make it harder for you to pay your bills and afford that family trip. I know how unfair it feels when a company overcharges and gets away with it. Not anymore. We've written a bill to stop it all; it's called the Junk Fee Prevention Act … the idea that cable, internet, and cell phone companies can charge you $200 or more if you decide to switch to another provider—give me a break. We can stop service fees on tickets to concerts and sporting events, and make companies disclose all the fees up front. And we'll prohibit airlines from charging $50 roundtrip for families just to be able to sit together. Baggage fees are bad enough; airlines can't treat your child like a piece of baggage. Americans are tired of being played for suckers."