Neo-Nazi Leader and Accomplice Arrested for Plot to "Completely Destroy" Baltimore
The pair planned to conduct sniper attacks on electrical substations in the majority-Black city.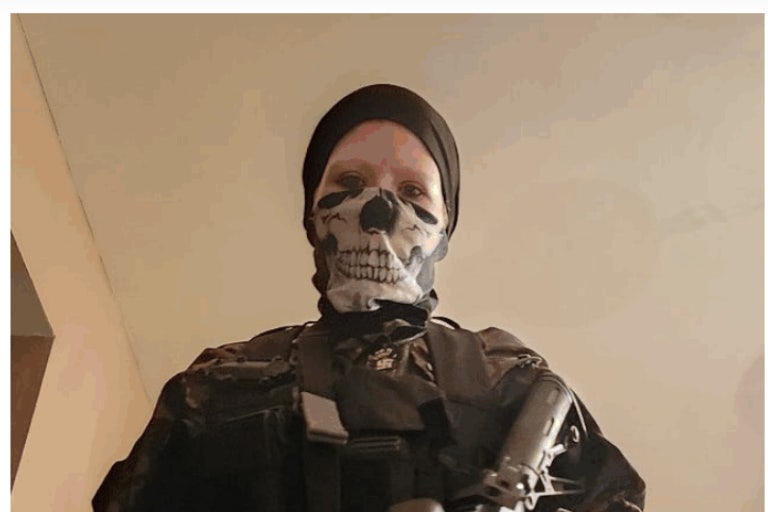 Screenshot via DOJ
A neo-Nazi leader and his accomplice have been arrested for allegedly conspiring to attack electrical substations, with the ultimate goal to "completely destroy" the city of Baltimore, Maryland, law enforcement officials said Monday.
The two suspects, Brandon Clint Russell of Florida and Sarah Beth Clendaniel of Maryland, were arrested last week for their ploy to conduct "sniper attacks" on substations in order to disable power in the majority-Black city.
Authorities found the plot was "racially or ethnically motivated." Baltimore has the fifth highest population of Black people in the country, with some 61 percent of residents being Black.
Russell had previously founded a neo-Nazi group in Florida called "Atomwaffen," which was known to authorities for targeting minorities, Jews, LGBTQ people, the government, journalists, and infrastructure. In 2017, as police investigated his roommate murdering their two other roommates, Russell was discovered to be harboring neo-Nazi paraphernalia, a photo of the Oklahoma City bomber Timothy McVeigh, explosives, and more. In an interview at the time, he admitted to being a Nazi and that he had manufactured the recovered explosives.
Meanwhile, Clendaniel allegedly had what resembled a manifesto on her computer that references the Unabomber and Hitler. "I would sacrifice **everything** for my people to just have a chance for our cause to succeed," the document said.
The pair were intensely devoted toward carrying out the attacks, according to the case's affidavit. "Putting holes in transformers … is the greatest thing somebody can do," Russell messaged an FBI informant.
The informant had been in contact with Russell since at least June 2022. Russell had allegedly been urging the informant to carry out attacks against infrastructure in service of violent extremist ends, for example, encouraging the informant to read a white supremacist publication that shared instructions on attacking critical infrastructure.
Last month, Clendaniel allegedly told the informant she was expecting to die of a terminal illness in her kidneys in the coming months and asked the informant to purchase a rifle for her, as she had unsuccessfully tried to in the past. She allegedly said she wanted to "accomplish something worthwhile" before dying, and if she were to get the rifle "within the next couple of weeks," she would be enabled to "accomplish as much as possible before June, at the latest."
Days later, Clendaniel told the informant of numerous potential targets, one of which was "literally like a life artery," that, if destroyed, would "definitely cut out a lot of shit."
On or about January 29, Clendaniel allegedly texted the informant that it "would really be ideal, for us both to have 30 round mags. Especially for what we're doing."

"Please get us each like, 4 of them. For what I'm hoping to do, we will need them," she added. "If we can pull off what I'm hoping … this would be legendary. This is MAJOR tier, and definitely doable."
During a voice conversation later that day, Clendaniel said that if they destroyed the "cores" of all five of their targets, they "would probably permanently completely lay this city to waste."
The pair face a maximum possible prison sentence of 20 years if convicted on their charge of conspiring to destroy an energy facility.
"Driven by their ideology of racially motivated hatred, the defendants had allegedly schemed to attack local power grid facilities," said Assistant Attorney General for National Security Matthew G. Olsen.

The pair had allegedly been corresponding since at least 2018, while they both were incarcerated in separate facilities. Along with devising plans to destroy Baltimore and foment chaos, the two had sent text messages about having kids together, as well as "warfare" and "illegal things." Russell once messaged Clendaniel that "going to prison was worth it because I might not have met you otherwise."
The arrests follow nationwide attacks on power stations over the past year, many of which are feared to be tied to terrorists and white supremacist groups attempting to foment chaos.
In February 2022, three men pleaded guilty to plotting to attack substations with firearms; the trio was alleged white supremacists who had for years strategized how to incite civil unrest, a potential race war, and subsequently the second Great Depression.