Yet Another Republican Commits Voter Fraud
An upstate New York elections official becomes the latest in a long line of conservatives to perpetrate the very crime they claim is being done against them.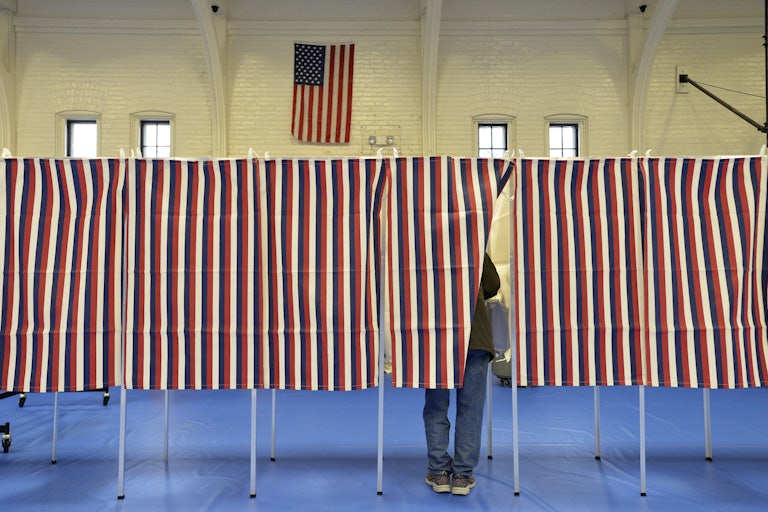 Joseph Prezioso/Getty Images
Jason T. Schofield, the elections commissioner for Rensselaer County in upstate New York, is set to plead guilty to federal criminal charges in the New Year after being accused of leading a plot to cast votes in at least eight other people's names without their permission.
According to the Times Union, the notice of Schofield's change-of-plea hearing was filed on December 13—just hours before the Republican-led Rensselaer County Legislature voted 16–2 to reappoint Schofield to a second term as election commissioner. This, after Schofield had already been facing federal criminal charges since September.

In September, the FBI arrested Schofield on accusations that the county elections commissioner was fraudulently applying for absentee ballots in the names of people who didn't request ballots or Schofield's assistance, or didn't know that Schofield was using their personal information. The indictment alleged that Schofield brought ballots to voters, took possession of some ballots himself, and had voters sign ballot envelopes but not actually vote—enabling him to cast votes in the voters' names.

Schofield's plea agreement includes his pledge to cooperate in the federal investigation that is examining the use of county resources and employees to gather absentee ballots.

The election fraudster was appointed to the county elections commission back in April 2018, after resigning from the Troy City School District Board of Education, where the Times Union reports he spent 15 years as a board member and seven years as president.

Other officials are also being targeted by the investigation, including two Rensselaer County employees—one described by insiders as a GOP operative, another an assistant for county Executive Steve McLaughlin, who was indicted last year on campaign finance felony charges. The investigation has also led to the guilty plea of former Republican Troy City Councilwoman Kimberly Ashe-McPheron, for fraudulently submitting absentee ballots in last year's primary and general elections.

The remarkably ever-widening scale of the upstate investigation follows a wider trend of Republican officials and voters being guilty of the phantasmal voter fraud they so often fearmonger about.