Fox News Crime Segment Ends in Humiliation for Brutally Roasted Reporter
"Who are you getting these facts from?" a resident bluntly asked the Fox reporter.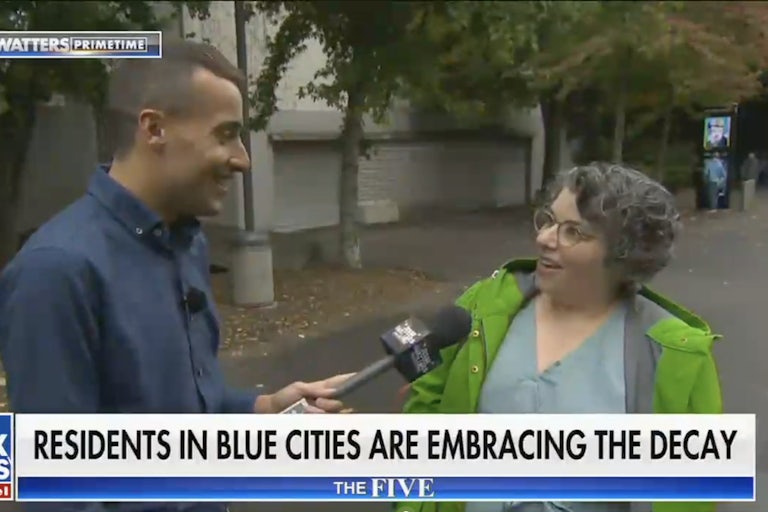 A Fox News producer had his segment derailed by Seattle residents who challenged the network's narrative that the city is a "progressive hellscape."
Johnny Belisario, an associate producer on Jesse Watters Primetime, was openly mocked during a segment about how crime and drugs have become expectations in Democratic cities, and that Seattle had become a dangerous place to live.
"I've never seen any crime in Seattle. I've never seen any of it. I've seen fun and laughter, and laughter and fun," one interviewee said.
"Crime is a social issue that could be solved by giving people their basic needs," said another interviewee.
Another woman claimed she had "never heard of anyone getting robbed."

She went on to question Belisario. "People don't just come up and try to rob people on the street. Do you walk around everyday just like, 'Someone's gonna rob me' every second?"
"Seattle decriminalized drug use and then they criminalized it again!" Belisario cried in response.

"Who are you getting these facts from?" the interviewee asked incredulously.

Belisario went on to say he'd seen "a lot of people shooting up" on his way to the interview.
"Oh, did you? OK. And were they bothering you?" she responded. When Belisario said he'd actually been in a car, the woman cringed. "Oh no! You were in a car," she said, feigning distress. "They were hurting you so bad! Oh no!"

Back in the studio, Jeannine Pirro said she was shocked by the "arrogance and ignorance" and called the residents "clueless." Host Jesse Watters concluded that the residents of Seattle believe that "criminalizing crime is racist."