The Iconic Moment Sinéad O'Connor Was Banned From SNL for Calling Out the Pope
The Irish singer-songwriter has died at the age of 56, but she leaves behind a legacy of political activism.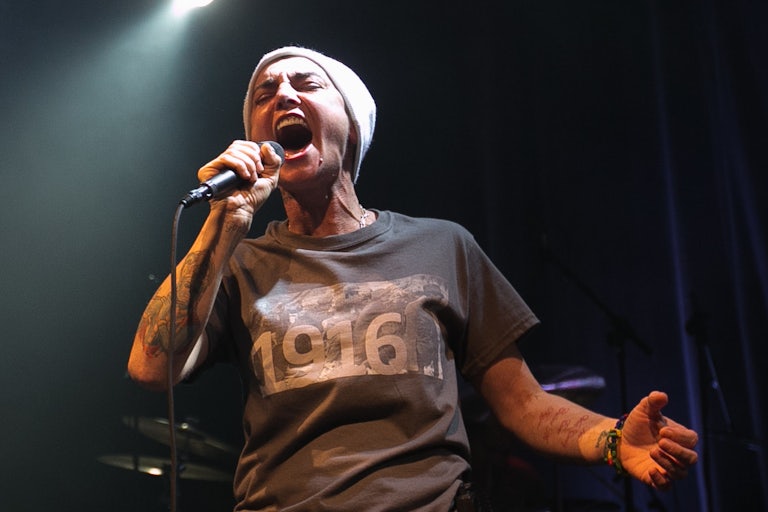 Kieran Frost/Redferns/Getty Images
Sinead O'Connor performs in 2014 in Dublin.
Sinéad O'Connor, the world-renowned Irish singer and songwriter, has died at the age of 56.
"It is with great sadness that we announce the passing of our beloved Sinéad," her family said in a statement Wednesday. "Her family and friends are devastated and have requested privacy at this very difficult time."
No cause of death was disclosed. The news of her passing has set off a wave of tributes for the artist known not just for her rebellious anthems but for her political activism.
Perhaps her most iconic moment was in 1992, on Saturday Night Live. O'Connor, who was raised Catholic, was performing a version of Bob Marley's "War." She changed some of the lyrics to reference child abuse and then held up a picture of Pope John Paul II as she reached the final line: "We have confidence in the victory of good over evil."
Then she ripped up the photo and said, simply, "Fight the real enemy."

She later explained that she was criticizing pedophilia in the Catholic Church. SNL banned her.
"I'm not sorry I did it. It was brilliant," she told The New York Times in 2021. "But it was very traumatizing. It was open season on treating me like a crazy bitch."
"It seems to me that being a pop star is almost like being in a type of prison," she added. "You have to be a good girl."
O'Connor was vocal on many other issues. She refused to attend the 1991 Grammy Awards or even accept her win for Best Alternative Music Performance. Instead, she wrote an open letter to the Recording Academy in which she criticized the awards for being based on "false and destructive materialistic values" rather than actual artistic merit.
Two years before that, during a performance at the Grammys, she painted Public Enemy's target logo on her head, in solidarity with the hip-hop group and other Black artists who were being ignored by the Recording Academy.

O'Connor's debut album, 1987's The Lion and the Cobra, was an international success. But her next album in 1990, I Do Not Want What I Haven't Got, which featured the hit song "Nothing Compares 2 U," turned her into a global sensation.
O'Connor's teenage son Shane died by suicide last year. She is survived by her three other children: Jake, Roisin, and Yeshua.