Supreme Court Delivers Major Win for Native Rights and Tribal Sovereignty
In a stunning ruling, the Supreme Court has rejected a challenge to the Indian Child Welfare Act.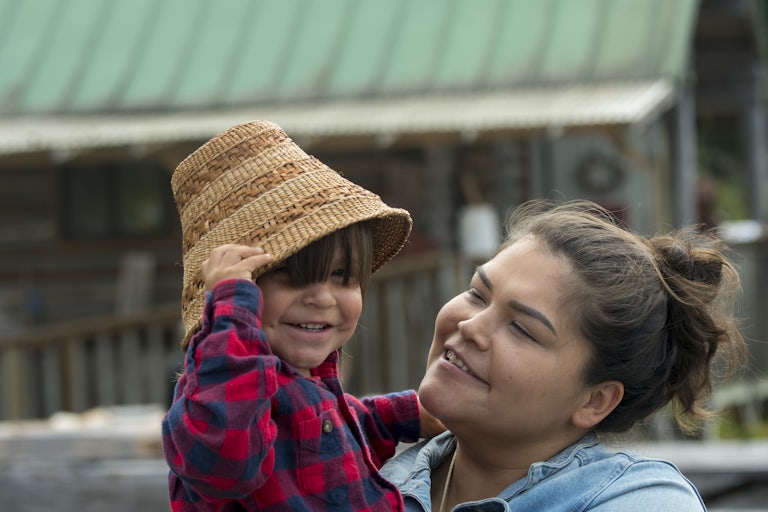 Wolfgang Kaehler/LightRocket/Getty Images
A Tlingit mother with her child in the village of Kake, located on Kupreanof Island in Tongass National Forest, Alaska
The Supreme Court on Thursday rejected challenges to the Indian Child Welfare Act, a major win for Native rights and the protection of Indigenous culture.
The justices voted 7–2 to uphold the Indian Child Welfare Act, or ICWA, a law that prioritizes ensuring Native American children are adopted by Native American families. The law, enacted in 1978, has helped uphold tribal sovereignty and stabilize Native communities.
"The bottom line is that we reject all of petitioners' challenges to the statute, some on the merits and others for lack of standing," Justice Amy Coney Barrett wrote in the majority opinion.
The court heard arguments in November for Haaland v. Brackeen. The Brackeens, a white evangelical couple from Texas, fostered a Cherokee and Navajo boy. But when they tried to formally adopt him, the Navajo Nation intervened, arguing that a Navajo family should adopt him instead.
The main issue at play went much further than simply who could or could not adopt an Indigenous child. As The New Republic's Matt Ford explained, the big question was about the extent of tribal sovereignty and "whether tribal governments—and this country's Indigenous peoples—are a legitimate part of the American constitutional order."
The ICWA is also hugely significant for the longevity of Native culture. The law was implemented in an attempt to rectify the decades of Indian boarding schools, when Native children were taken from their families, cut off from their culture, and subjected to horrific abuse for the sake of forcing them to assimilate to white culture. Making sure that Native children stay with Native families allows for cultural knowledge to be passed on.
The Supreme Court shocked everyone last week when it ruled in favor of voting rights for Black residents of Alabama. Thursday's ruling was another huge win for human rights. Only Justices Clarence Thomas and Samuel Alito voted against the ICWA (surprise, surprise).

In his concurring opinion, Justice Neil Gorsuch pointed out that Native Americans are often denied justice at the Supreme Court. "But that is not because this Court has no justice to offer them," he wrote. "Our Constitution reserves for Tribes a place—an enduring place—in the structure of American life."
"In adopting the Indian Child Welfare Act, Congress exercised that lawful authority to secure the right of Indian parents to raise their families as they please; the right of Indian children to grow in their culture; and the right of Indian communities to resist fading into the twilight of history."

This article has been updated.