Why Are Joe Manchin and John Hickenlooper Already Endorsing Kyrsten Sinema?
The two Democratic senators have expressed support for Sinema, who switched her party to independent, over Ruben Gallego, who is running as a Democrat.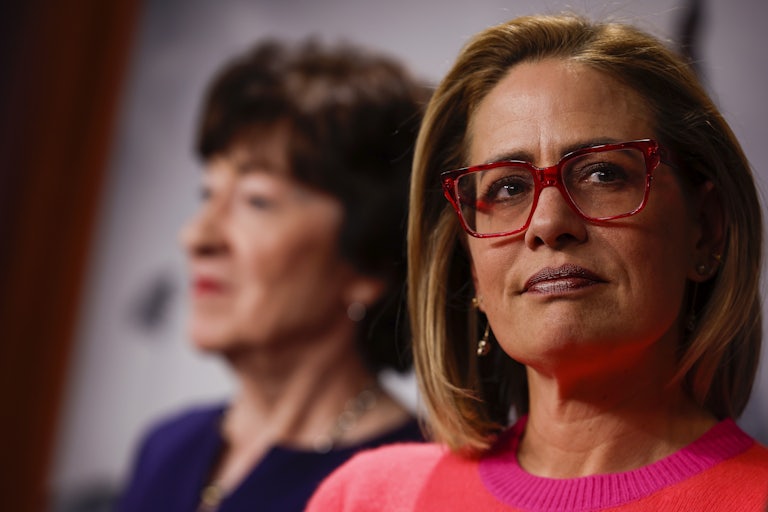 Anna Moneymaker/Getty Images
After Arizona Representative Ruben Gallego announced his candidacy for Kyrsten Sinema's Senate seat on Monday, most congressional Democrats remained noncommittal about who they will back (if not, perhaps, hinting support for Gallego).
There were two notable exceptions, however: West Virginia Senator Joe Manchin and Colorado Senator John Hickenlooper, per Punchbowl News. "I think having a voice like that—she says what she thinks. And I think she adds value to the caucus," Hickenlooper said. "The problem is she's too moderate as a Democrat—well, that's half the time what they say about me!"
Hickenlooper also nodded toward Senators Angus King and Bernie Sanders as two independents who caucus with the Democrats, citing them as examples for why Sinema should apparently be seen no differently. "I can't imagine not supporting her," he said.
Manchin, meanwhile, said he's "totally supportive" of Sinema and said leadership "should support someone who brings basically some peace, if you will, or some rational thinking on some of this stuff without being pushed far left and far right."
It's understandable why most Democrats aren't expressing their preferences one way or another. It's still very early, and Sinema is still a voting and committee-sitting senator in a narrowly Democratic-led Senate. What's more fascinating is why senators would so publicly express their support for Sinema given how early it is, how Sinema has not even expressed her 2024 intentions, and how Kari Lake or some other far-right Republican may soon announce their candidacy, raising the stakes of the race all the more.
Manchin's early support for Sinema is unsurprising in a "Manchinema" universe that has plagued politics over recent years, obstructing a voter-won Democratic agenda and watering down legislation in favor of corporations at the expense of everyone else.
Hickenlooper's support, on the other hand, seems less immediately intuitive. A look at his record at least presents an ideological affinity between him and Sinema. A longtime fossil fuel–favoring politician, Hickenlooper has been a linchpin for corporate influence in government. Hickenlooper famously shilled for fracking at a 2013 hearing, as he described drinking a glass of Haliburton-produced fracking fluid alongside Haliburton executives.
He was one of seven Democrats that joined Republicans to block a fracking ban in 2021.
Hickenlooper has shifted somewhat left on climate, perhaps propelled by the moment or by the 2020 primary challenge against him by Andrew Romanoff, endorsed by the likes of Bill McKibben and the Sunrise Movement. Still, Hickenlooper seems to find some kinship with his fellow "too moderate" Sinema.
The entrance of a Republican like Lake into the race, as well as Sinema's moves from here on out, will indicate how eager Democrats actually are to rid themselves of her antics and how far they're willing to go (and risk) to make it happen.