Impeachment Hearing Proves Even Dumb Fascists Can Be Dangerous
The House Republican effort to make a case against Joe Biden is mostly blundering—but their collective face-plant can still cause some significant damage.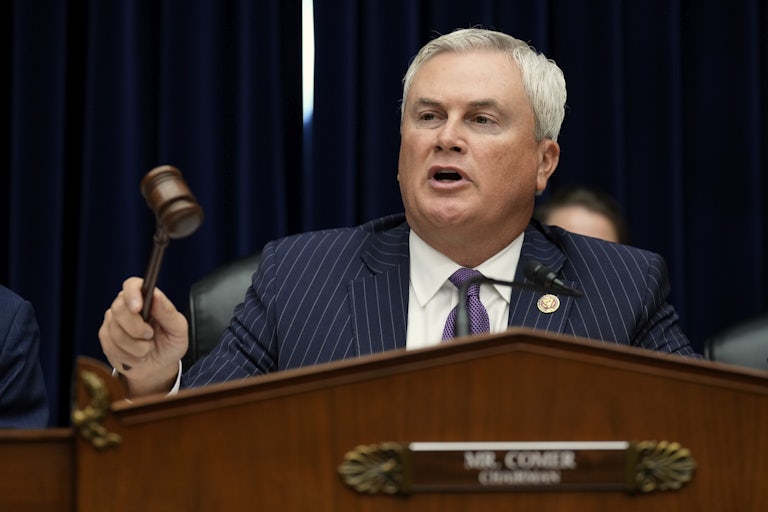 Drew Angerer/Getty Images
Chairman of the House Oversight Committee James Comer presides over an impeachment inquiry on September 28, in Washington, D.C.
A common refrain on the broad left has gone something like: "Well, Donald Trump may be a fascist, but at least we can take solace in the fact that he's stupid, because imagine the damage he could do if he were smart." And that is true to some extent; one big reason we worry so much about the prospect of a second Trump presidency is that he now knows things that eluded him the first time he took office, potentially making him much more dangerous.
On the other hand, let's not forget: Trump taught us from 2017 to 2021 that fascist and stupid can be plenty bad. And this week, House Republicans are drilling the same lesson into our weary heads, maybe even more emphatically than Trump did. Day one of their impeachment hearing was … well, words nearly fail me. One was repulsed by the obvious and blatant lies, yet simultaneously amazed at just how dumb these people seem to be.
The sorry display actually kicked off the day before the formal hearing, when Representative Jason Smith of Missouri, who chairs the Ways and Means Committee, released 700 pages of documents proving—and I'm summarizing here—blah blah blah. He spoke gravely of "evidence of corruption and misconduct," referring at one point to a June 2017 WhatsApp message that Hunter Biden sent to a business associate. Here commenced a hilarious exchange between Smith and an NBC News reporter, in which the reporter reminded Smith that in June 2017, Joe Biden was neither the president nor even the vice president but rather what is known as "a private citizen." Smith finally asked the reporter, "What source are you with?" When the reporter said NBC, Smith said, "So apparently you'll never believe us."
That's the playbook. When the facts fall apart, cry Fake News and Deep State.
Then came the hearing itself. CNN delivered a blistering fact-check of the antics, listing eight instances where Republicans omitted crucial context or simply lied through their teeth:
1. Oversight Committee Chairman James Comer said the Bidens had "raked in over $20 million between 2014 and 2019."
Truth: While $20 million is roughly accurate, much of that money went to Hunter Biden's business associates. And more importantly, they offered zero proof that any money went to Joe Biden.
2. Jim Jordan claimed that Hunter Biden admitted he was not qualified to sit on the board of the Ukrainian company Burisma.
Truth: Hunter Biden acknowledged that he probably wouldn't have been asked to be on the board if he weren't Joe Biden's son, but he has defended his qualifications in detail. A subtle but crucial twisting of his words.
3. Jordan argued—this has been a GOP talking point for a while—that the Justice Department blocked investigators from asking about Joe Biden during a 2020 investigation into Hunter's dealings.
Truth: A deputy did say to then–U.S. Attorney for Delaware David Weiss that there was no justification for adding Joe Biden's name to a warrant, but this is plausibly just how the law works: If prosecutors believed there were no grounds to include the elder Biden's name, doing so would be inappropriate and even illegal. Also, people like Jordan speak murkily of "the Justice Department" in sinister terms to suggest conspiracy. It's worth remembering that at the time in question, Trump was president and Justice was led by Bill Barr (then still in Trump's pocket).
Actually, I'll stop there. You can click on the link above to see them all, but you get the idea. In addition, you should watch committee member Alexandria Ocasio Cortez's evisceration of Republican committee member Byron Donalds's photoshopped text message in her appearance on Chris Hayes's show Thursday night. Donalds made a text message—which, by the way, was not about business dealings but about Hunter's alimony problems—look like a real iPhone text, which was totally made up. "And this is supposed to be the Republican case for impeachment?" AOC told Hayes. "At this point we should be investigating the investigation."
All of this comes in addition to the other, more widely covered embarrassments at Thursday's hearing, notably Jonathan Turley, the GOP's star lawyer, saying, "I do not believe that the current evidence would support articles of an impeachment."
Oh, and remember this: Comer's star witness, a man named Gal Luft, is on the lam. Luft was supposed to deliver various goods on "the Biden crime family," and back in June, Comer and Jordan and the New York Post were very excited about him. But in July, the Southern District of New York indicted him on eight charges that involved Luft acting as an unregistered foreign agent for China, trafficking arms, brokering the sale of Iranian oil to China, and more. He was in Cyprus, free on bail, and he jumped it. The star witness is literally a fugitive from the law.
These people are a joke. And yet—don't underestimate the danger they can do. On balance, sure, smart fascists are more dangerous. Hitler was smart in the early 1930s as he gained power (he saved his stupid moves—declaring war on the United States for no reason; thinking he could win a two-front war—for later). He knew exactly what laws he was breaking, and how, and why.
Today's Republicans aren't that cunning. This idiot Ways and Means chairman—who, by the way, hates puppies; read this eye-popper—doesn't know what he's talking about. Comer has shown time and again that he's a dope. Jordan, for all his seething self-righteousness, knows nothing about the Constitution (by the way, I recently referred to him as a lawyer; he did finish law school, but he never passed a bar exam, and that means he's not actually a lawyer).
But all that doesn't mean they can't do damage. A clever trained assassin armed with a Beretta behind enemy lines can do one kind of damage. A blind man with a machete can do another kind. But it's still damage. Especially when his motivation is to provide cover for a fascist candidate.
This article first appeared in Fighting Words, a weekly TNR newsletter authored by editor Michael Tomasky. Sign up here.