Trump "Jokes" About Fleeing to Russia After $200,000 Bond in Georgia
Donald Trump is joking about being a flight risk after being charged with trying to overturn an election.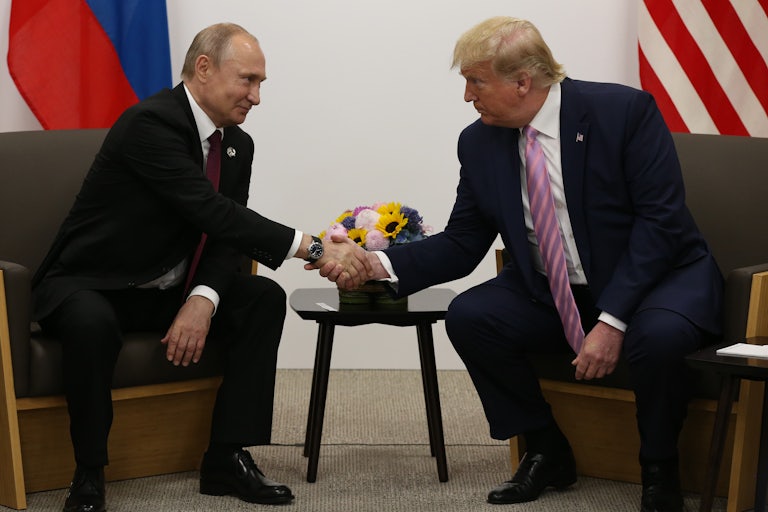 Mikhail Svetlov/Getty Images
Donald Trump is joking about fleeing to Russia after receiving a $200,000 bond for his release from Fulton County Jail, following charges of trying to overturn Georgia's 2020 election results.

Trump took to Truth Social on Monday night to argue the steep price set for his release was because law enforcement feared he would share a "gold domed suite" with Vladimir Putin.

"The failed District Attorney of Fulton County (Atlanta), Fani Willis, insisted on a $200,000 Bond from me. I assume, therefore, that she thought I was a "flight" risk," Trump wrote. "I'd fly far away, maybe to Russia, Russia, Russia, Russia, share a gold domed suite with Vladimir, never to be seen or heard from again."
The former president's love for the Russian authoritarian autocrat is no secret, so the post comes across more as longing than anything else.

Maybe what Trump's really upset about is the stipulations attached to the bond agreement. His bond agreement warns Trump not to use social media to intimidate any co-defendants or witnesses in the case. That includes "direct or indirect threats." This may be hard for Trump, who regularly posts tirades on Truth Social.
Trump has already agreed to turn himself in on Thursday. It is unclear as yet whether he will put up the cash or raise money through one of his political fundraising committees.

Also on Tuesday, Trump's co-defendant former lawyer John Eastman officially surrendered to authorities in Georgia for allegedly trying to overturn the 2020 election.