Dark Brandon Wipes Out $39 Billion in Student Debt, Despite Supreme Court
You love to see it.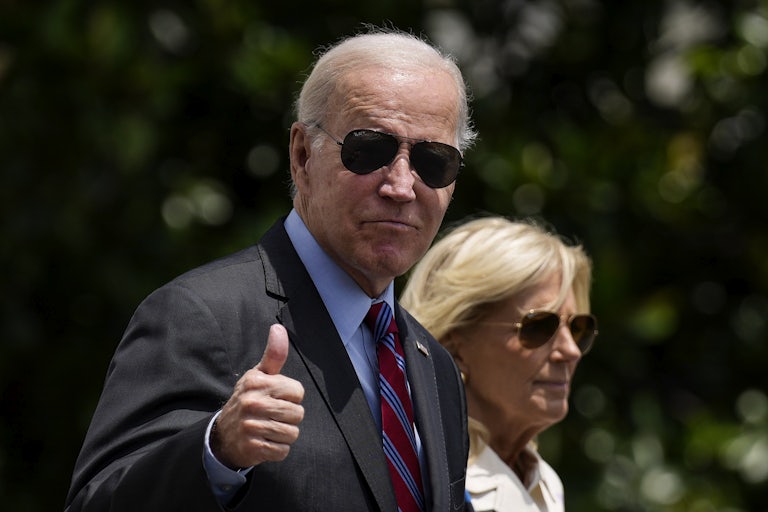 Drew Angerer/Getty Images
The Biden administration announced Friday it will forgive $39 billion in student debt, just weeks after the ultraconservative Supreme Court tried to block such a move.
The Supreme Court in June ruled 6–3 against Joe Biden's original student loan forgiveness plan, but it appears the president refuses to give up. His administration implemented a series of fixes to the student loan repayment system that is expected to help more than 800,000 people with student debt.
The Biden administration counted payments for borrowers who had made partial or late payments, and for people who had paused their payments under certain circumstances, such as if they were a student or unemployed, but continued to pay the interest. These types of payments previously went uncounted, according to the government.
"For far too long, borrowers fell through the cracks of a broken system that failed to keep accurate track of their progress towards forgiveness," U.S. Secretary of Education Miguel Cardona said in a statement.
The fix has a far more limited scope than Biden's original plan, which would have canceled up to $20,000 of student debt for up to 43 million people, but the move is still noteworthy.
Biden had originally cited the Heroes Act of 2003 as the law that gave him the authority to cancel student debt. That measure permits the secretary of education to "waive or modify" student loan provisions under the circumstances of a national emergency. Debt relief opponents had argued that the act was not applicable because it was no longer a national emergency.
The new plan hinges on the Higher Education Act, which allows Biden to direct the education secretary to "compromise, waive, or release loans under certain circumstances."
Republicans are furious that Biden has found a way around both them and the Supreme Court. Biden "is intentionally thumbing his nose at the U.S. Supreme Court and our Constitutional separation of powers," tweeted Virginia Representative Ben Cline.
Tennessee Senator Marsha Blackburn tweeted, "This administration has no respect for our institutions."
But Democrats hailed the move, especially Massachusetts Senator Elizabeth Warren, who had previously pushed the HEA as the law to underpin student loan forgiveness. "This action is what it looks like when the Education Department is on the side of working people," she tweeted.
California Representative Mark Takano called to keep up the momentum. "I applaud the Biden Administration's commitment to student debt forgiveness, despite the Supreme Court's efforts to rip away desperately needed relief from millions of borrowers," he said. "We must continue to fight for student loan borrowers and get them the relief they deserve."