Here's Even More Evidence That Trump's SPAC is a Scam
Three investors in an entity connected to it were just arrested for insider trading.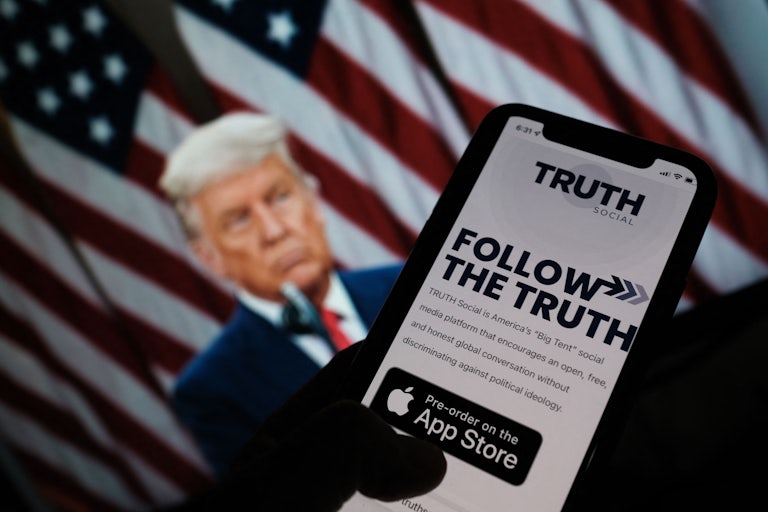 Photo by CHRIS DELMAS/AFP/Getty Images
The Trump Train is more of a clown car.
In the latest episode of Trump-adjacent criminality, three top-line investors have been charged with insider trading relating to a proposed merger with the company that owns twice-impeached and twice-indicted former President Donald Trump's Truth Social social media platform.

The Floridian trio allegedly got away with over $22 million by illegally trading shares in Digital World Acquisition Corp, or DWAC, a shell company that was set to merge with Trump Media Technology Group, or TMTG. The three men, Michael Shvartsman, Gerald Shvartsman, and Bruce Garelick made the trades based on nonpublic information.

DWAC is what is known as a special purpose acquisition company, or SPAC, a tool that allows companies to merge with other entities and go public, all without having to formally file for IPOs. It is essentially a shell company that allows financiers to avoid finicky things like paperwork and rules—which are usually required when companies go public—in search of a quick payday.
According to the Securities and Exchanges Commission court filing, Garelick and both Shvartsmans had signed investor confidentiality agreements with DWAC in June 2021; after signing, the duo were first told about the company's plans to merge with Trump's media company.

Garelick had then joined the DWAC board of directors in July 2021. With his newfound position, he had come to learn of more details about DWAC's plan to acquire Trump's media company and also voted on actions related to the merger. The merger was officially announced on October 20, 2021.

Yet according to the complaint, Garelick had repeatedly purchased DWAC securities prior to that announcement date, didn't complete required forms for directors who engage in securities trading of the companies they serve as director for, and shared additional nonpublic information about the merger with his boss at Rocket One Capital—Michael Shvartsman—who then tipped off his brother, Gerald.

After the merger announcement, the trio sold their DWAC holdings and pocketed almost $23 million.

Trump himself has not been named in the complaint. Meanwhile, the merger still has not happened, thanks in large part to numerous legal complaints. If DWAC and TMTG do not merge by September 8, the former is required to return $300 million to investors.

Days after the deal was first announced, The New York Times reported that DWAC may have violated securities laws that hold SPACs are not supposed to have a merger pre-planned prior to going public. Trump had reportedly been in talks with DWAC founder Patrick Orlando since at least March 2021.

In December 2021, it was revealed that the SEC and Financial Industry Regulatory Authority were looking into the company's stock trading and communications with Trump's media company before the deal was announced. Then, in June 2022, the SEC was reported to have expanded its inquiry. Days later, the Southern District of New York subpoenaed DWAC and each member of its board—with a special focus on communications with Rocket One Capital. Amid the chaos, Garelick had resigned from the board of directors. And now we know why.