Gallego's Newest Recruit to Retire Kyrsten Sinema: Nancy Pelosi
Sinema was once a member of Pelosi's caucus. But those were different times.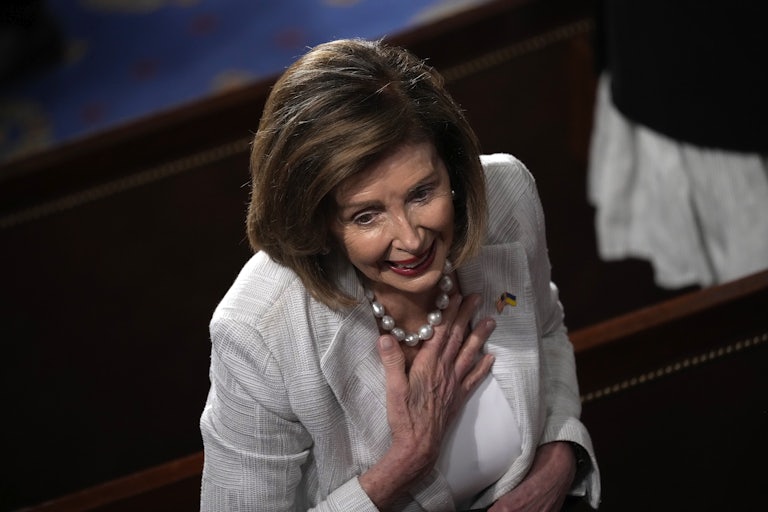 Drew Angerer/Getty Images
Nancy Pelosi may not be speaker anymore, and she's not constantly flying here and there to raise money like she once was. But that doesn't mean she's out of the game totally. The New Republic got a copy of an invitation to an event she's doing Wednesday, which is interesting both for who it's for—Arizona Congressman Ruben Gallego—and who it's obviously against—Kyrsten Sinema, who was a Democratic member of the House when Pelosi led the Democratic caucus.

Sinema, of course, left the Democratic Party earlier this year and is now a registered independent. She has not said whether she plans to run for reelection. But Sinema has held meetings laying out her potential battle plans should she run for reelection.

It's far from clear how competitive Sinema would be should she run, however. Her most recent fundraising filings indicate anemic support among small-dollar donors. And while there isn't much public polling, what's out there doesn't look good for her. A PPP poll from April had Gallego in the low 40s, three different GOP candidates in the mid-30s or high-20s—and Sinema dead last, around 15.

Pelosi's presence at a Gallego fundraiser is a stark statement. It means she is directing her donor community, built over decades in Congress and congressional leadership, toward Gallego rather than either tacitly or overtly directing them to stay neutral.

Senate Democratic leadership has stayed fairly mum on the race. In an interview with The New Republic on Monday, Democratic Senatorial Committee Chairman Gary Peters did not signal whether his committee, the campaign arm for Senate Democrats, plans to endorse in the primary. That's possibly because an enraged Sinema could be a legislative headache for Democrats if she feels they have unfairly abandoned her in 2024. Sinema, it's important to note, still caucuses with the Democratic Party. But Peters did not throw out the possibility that the DSCC could back Gallego at some point in the cycle.