How Worried Should Democrats Be About 2024?
The presidential election may come down to just three states.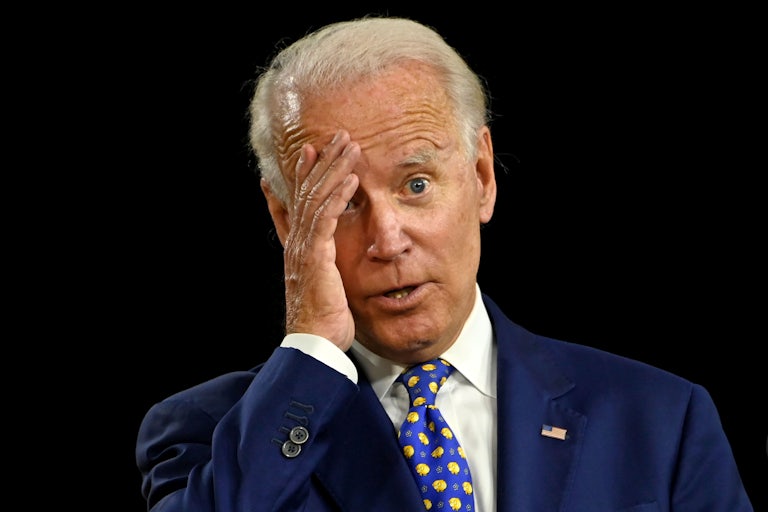 Photo by ANDREW CABALLERO-REYNOLDS/AFP/Getty Images
The 2024 presidential election is well over a year away—and the GOP nomination is still up for grabs, at least technically. And yet, early signs are pointing to another very close election: Most early polling shows that President Joe Biden and Donald Trump are neck-and-neck, albeit with large numbers of undecided voters, in national polling, and tight races in a number of swing states.
On Thursday, the University of Virginia's Center for Politics released its Electoral College Rankings, which shows an astonishingly close race, with only 43 electoral votes up for grabs.
"We are starting 260 electoral votes worth of states as at least leaning Democratic, and 235 as at least leaning Republican," writes the Center for Politics's Kyle Kondick. "The four Toss-ups are Arizona, Georgia, and Wisconsin—the three closest states in 2020—along with Nevada, which has voted Democratic in each of the last four presidential elections but by closer margins each time (it is one of the few states where Joe Biden did worse than Hillary Clinton, albeit by less than a tenth of a percentage point). That is just 43 Toss-up electoral votes at the outset."
This is still, broadly speaking, good news for Democrats. Nevada has been trending red, but its six electoral votes would likely not be decisive in this scenario. Democrats have reason to feel hopeful about Arizona, which went for Trump in 2016 and Biden in 2020, but where Democrats have recently done well—thanks in part to the general insanity of the state's Republican Party. There are positive signs in Wisconsin as well, where Governor Tony Evers boasts a high approval rating. Still, with less than 18 months to go, this is a much tighter race than many Democrats would hope, especially given the fact that the presumptive Republican nominee is currently facing dozens of federal charges relating to mishandling classified information.