Donald Trump Fantasized About Having Sex With Ivanka, New Book Says
An ex-Trump staffer details the lewd comments Trump regularly made about his daughter's body.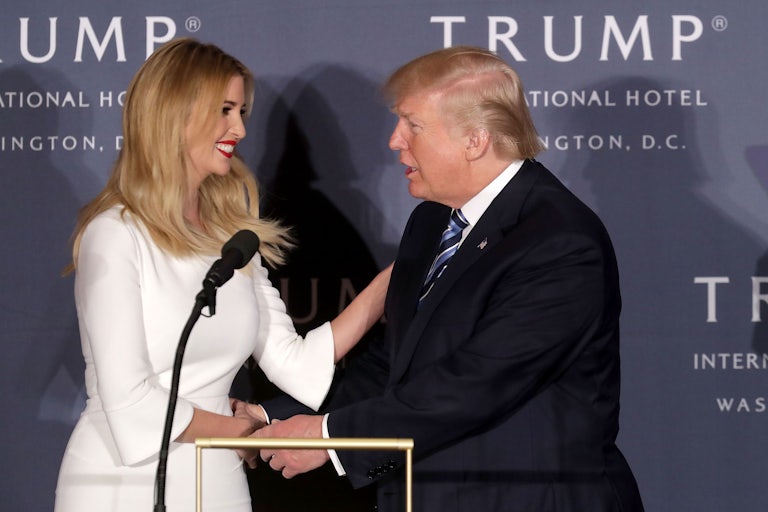 Chip Somodevilla/Getty Images
Donald Trump regularly made lewd comments about his daughter Ivanka and fantasized about what it would be like to have sex with her, according to a former Trump administration official.
Trump's comments were part of a general culture of misogyny and sexism in the White House during his administration, Miles Taylor details in his upcoming book, Blowback: A Warning to Save Democracy From the Next Trump, which was first reported on by Newsweek on Wednesday.
"Aides said he talked about Ivanka Trump's breasts, her backside, and what it might be like to have sex with her, remarks that once led [former Chief of Staff] John Kelly to remind the president that Ivanka was his daughter," Taylor, who served as a Department of Homeland Security chief of staff under Trump, wrote in his book.
"Afterward, Kelly retold that story to me in visible disgust," Taylor writes. "Trump, he said, was 'a very, very evil man.'"
Taylor was the author of an anonymous (and infamous) 2018 New York Times op-ed claiming several Trump staffers were part of a "resistance" to stop the president from within his own administration. Taylor said in 2020 that he would be voting for Joe Biden for president, and he officially quit the Republican Party last year.
Taylor's allegations should not come as a huge shock, given the other disturbing things Trump has publicly said about his daughter.
In 2004, he told radio host Howard Stern that it was perfectly fine to refer to Ivanka as "a piece of ass."

In 2006, Trump engaged in another conversation with the radio host about the size of Ivanka's breasts. "She's actually always been very voluptuous," Trump said, telling Stern that she had not gotten breast implants. "She's tall, she's almost six feet tall and she's been, she's an amazing beauty."

That same year, in an interview on The View, Trump was asked what he would do if Ivanka posed for Playboy.
"I don't think Ivanka would do that, although she does have a very nice figure," Trump replied. "I've said if Ivanka weren't my daughter, perhaps I'd be dating her.
"Isn't that terrible? How terrible? Is that terrible?"
In 2013, Trump made yet another disgusting comment about his daughter on the Wendy Williams Show. When asked what the two have in common, Trump replied, "Well, I was going to say sex, but I can't relate that to her."
In 1997—when Ivanka was just 16 years old and hosting the Miss Teen USA pageant—Trump reportedly asked the then Miss Universe, "Don't you think my daughter is hot?"

This is not even close to a comprehensive list of comments he has made about his daughter's body, or about what it would be like to have sex with her.
Taylor's book details other allegations of Trump behaving inappropriately toward women, including Kirstjen Nielsen, who was secretary of homeland security from 2017 to 2019.
"He's setting a very vile tone within the Republican Party, and in a sense has normalized pretty derisive views towards women in general," Taylor writes.