Yusef Salaam, of Central Park Five, Wins NYC Council Primary
The exonerated member of the Central Park Five said of his election victory: "I am my ancestors' wildest dreams."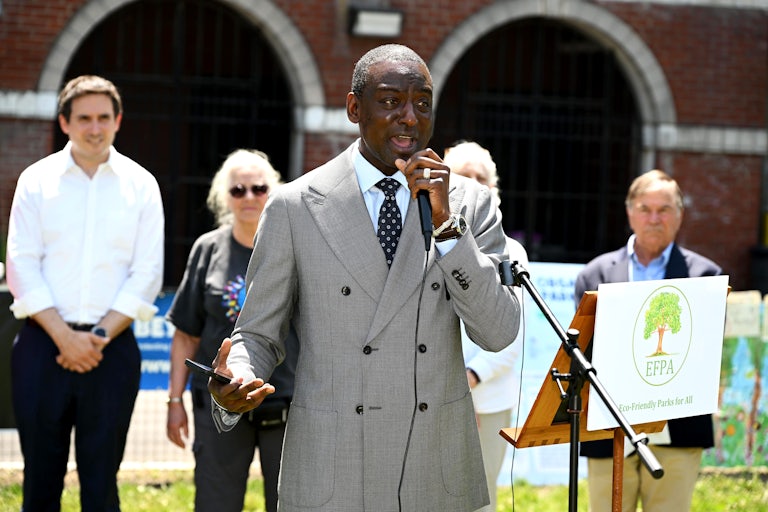 Dave Kotinsky/Getty Images for Stonyfield
Yusef Salaam
Thirty-four years after being indicted by both the media and the criminal justice system, and sent to jail for a crime he never committed, Yusef Salaam of the Central Park Five has won the New York City Council primary elections, almost guaranteeing he will serve for the same city government that oversaw his unjust imprisonment.
Salaam was one of five Black and Latino teenagers falsely accused of assaulting and raping a white female jogger in Central Park in 1989. Now, decades later, after spending nearly seven years in prison for a crime he didn't commit, Salaam is poised to represent his home district of Harlem, one of the most historic neighborhoods in New York City, and one that overlooks the north end of Central Park itself.
"This campaign has been about our Harlem community, who has been pushed into the margins of life and made to believe they were supposed to be there," Salaam said on election night. "Having to be kidnapped from my home as a 15-year-old child, to be launched in the belly of the beast, I was gifted to turn that experience into the womb of America. I was gifted because I was able to see it for what it really was: a system that was trying to make me believe that I was my ancestors' wildest nightmare. But I am my ancestors' wildest dreams."
Running for the city's ninth district, which includes Harlem, Salaam far outpaced a field that included two elected officials currently representing the neighborhood. The race was the only one in which Mayor Eric Adams made an endorsement, backing state Assembly member Inez Dickens, who currently trails Salaam by over 25 points.
While the election was a primary race, Salaam is all but guaranteed to be elected to the council come November.
Since being released from his false imprisonment, Salaam has become a motivational speaker and board member of the Innocence Project, an organization dedicated to fighting against wrongful convictions and bettering the criminal justice system.
In 1989, amid the apprehension of the Exonerated Five, former President Donald Trump bought full-page advertisements in all four of New York City's major newspapers, including The New York Times, calling to "BRING BACK THE DEATH PENALTY." He has still not apologized for doing so, even while all five of the individuals wrongfully arrested have been proven innocent.
In March, after twice-impeached Trump faced his first of now two criminal indictments, Salaam released a one-word response: "Karma."
This article has been updated.