In Speech Nine Days Late, NYC Mayor Refuses to Say Jordan Neely Was Killed
New York City Mayor Eric Adams finally managed to say something about Neely—and nothing about how he was killed.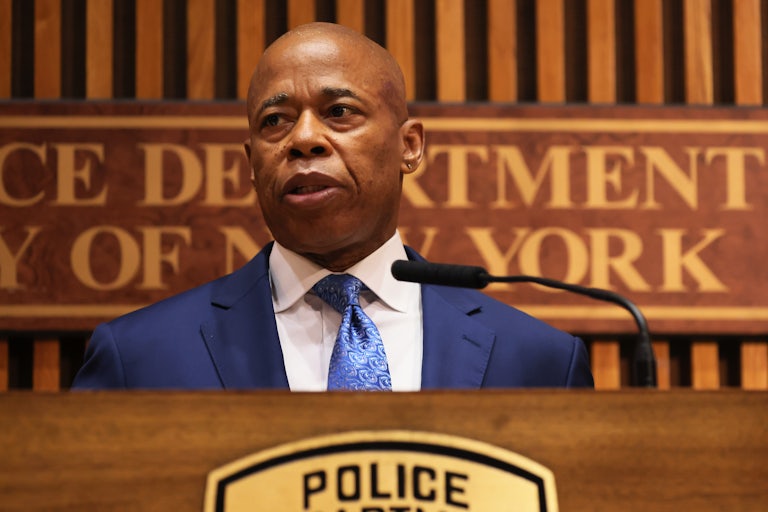 Michael M. Santiago/Getty Images
NYC Mayor Eric Adams
New York City Mayor Eric Adams has finally condemned the death of Jordan Neely, a Black, homeless man choked to death on the subway—nine days after the fact, and with no mention of how Neely was actually killed.
Ex-Marine Daniel Penny held Neely in a choke hold for 15 minutes on May 1, until Neely suffocated to death. Penny still has not been charged.

Though Adams condemned Neely's death on Wednesday, he did not mention Penny or the circumstances of Neely's death.
"Jordan Neely did not deserve to die," Adams said in prepared comments. "Jordan Neely's life mattered. He was suffering from severe mental illness, but that was not the cause of his death. His death is a tragedy that never should have happened."
The mayor's tepid comments are barely better than his first reaction to the tragedy. Last week, Adams said in a statement that "any loss of life is tragic," but that he wouldn't comment further because "there's a lot we don't know about what happened here."

The case has been referred to a grand jury, which will determine whether to issue criminal charges. Protests have broken out in support of Neely and his family. Almost a dozen people, including a photojournalist, were arrested at the protest Monday night.
Adams, meanwhile, has decided the best solution to prevent further tragedies like Neely's killing is to double down on his controversial proposed policy to send people to mental treatment facilities against their will.
"It is time to build a new consensus around what can and must be done for those living with serious mental illness and to take meaningful action despite resistance and pushback from those who misconstrue our intentions," Adams said Wednesday.
New York emergency workers are already empowered to hold dangerously violent people. But a directive by Adams at the end of April expands that power. Emergency responders, police, firefighters, and state Department of Health workers will be able to hold anyone who "appears mentally ill and displays an inability to meet basic living needs."
Adams did not provide details on what criteria determine someone should be hospitalized. Critics of the policy warn the city lacks sufficient mental health resources, particularly in low-income areas. Some city officials were also concerned that law enforcement officers would be permitted to act as mental health professionals.