Fox Shows Poll That Americans Want Trump Convicted for 2020 Election, in Accidental Self-Own
Fox aired the poll just minutes after the former president was found liable in his rape trial.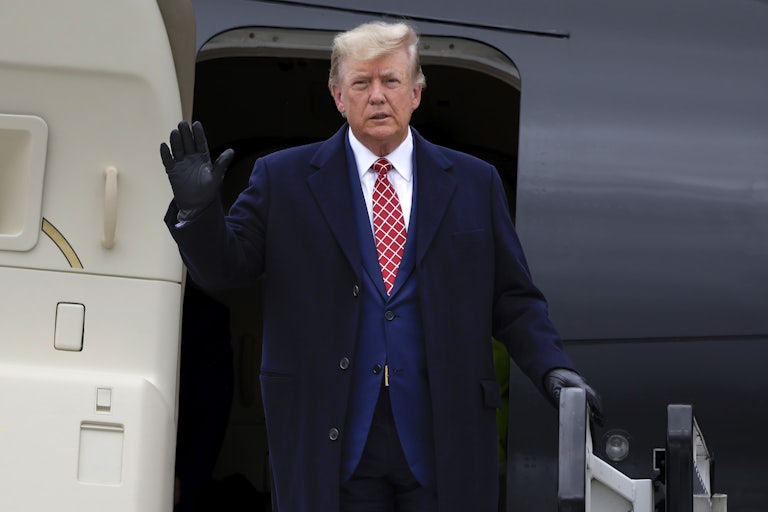 Jeff J Mitchell/Getty Images
Donald Trump has been impeached twice, lost the popular vote twice, was the first ever criminally indicted president, faces numerous investigations into his efforts to overthrow democracy, and has now been found liable of sexually abusing E. Jean Carroll.
And minutes after the announcement of Trump's latest conviction, Fox itself began advancing the question: What else should Trump face consequences for? The network emblazoned to its millions of viewers a recent Washington Post/ABC poll that suggests a majority of the country believes the former president and 2024 candidate should face criminal charges for his efforts to "illegally overturn the 2020 election."
The choice by Fox has followed an already confused conservative response to Trump's latest and severe misdeeds. Though there have been moves by conservatives to downplay or detract from the charges, there have been some relative expressions of a newfound willingness to criticize the former president.
Shortly after the verdict, Fox played the deposition clip of Trump mistaking E. Jean Carroll for his ex-wife. A guest on the show, former federal prosecutor Andy McCarthy, didn't even bother trying to spin the incriminating clip.

"The context of this is that he said 'she wasn't his type,'" McCarthy said. "The last person you would want to confuse her with would be someone you married." An uncomfortable pause ensued.
Perhaps it's just a matter of playing niceties after forking over $787.5 million to Dominion in a lawsuit settlement; perhaps it's a matter of the facts just being too incriminating not to acknowledge even somewhat. Either way, even Fox is beginning to admit the nature of Trump's criminality—and that most of America sees him in that way too.