Howard Schultz Says It's "Unfair" to Call Him a Billionaire
The former Starbucks CEO complained people were being mean to him during a Senate hearing about union-busting.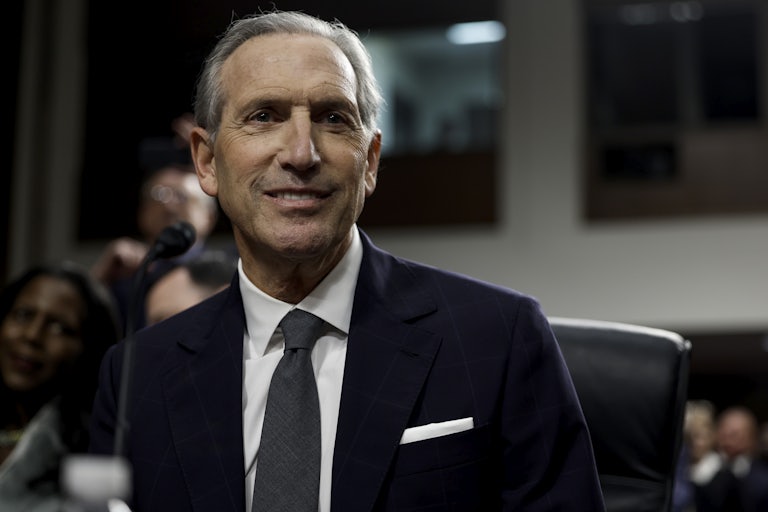 Anna Moneymaker/Getty Images
Former Starbucks CEO Howard Schultz
Howard Schultz (net worth of $3.7 billion) is not happy with you calling him a billionaire.
During a Wednesday hearing before the Senate Health, Education, Labor and Pensions Committee, the Starbucks CEO objected to being described as a billionaire because he did not grow up that way, an argument he seems to think automatically absolves him of any culpability for his current behavior.
"This moniker of billionaire, let's just get at that, OK?" Schultz started. "I grew up in federally subsidized housing. My parents never owned a home. I came from nothing. I thought my entire life was based on the achievement of the American dream.
"Yes, I have billions of dollars—I earned it. No one gave it to me. And I've shared it constantly with the people of Starbucks," Schultz said (though apparently he has withheld it from workers attempting to unionize). "And so anyone who keeps labeling this billionaire thing," Schultz trailed off, as Senator Bernie Sanders urged the hearing to keep moving.
"It's your moniker, constantly," Schultz interjected. "It's unfair."
That one of the richest people in American society feels a level of pressure to not be seen by the public as just another billionaire embodies some shift in the cultural zeitgeist surrounding wealth inequality in this country. And that Schultz attempted to argue that he shared his riches with his workers shows a growing (correct) baseline assumption by many in this country that the rich hoard their unearned wealth from those who helped them attain it in the first place.
It was a small moment in the hearing, but perhaps one that represents a broader cultural shift that could become much more potent, if it is fully activated.