Tennessee Made Gun Laws Looser, Focused Mainly on Attacking Gay People Before Nashville School Shooting
GOP Governor Bill Lee, who signed those bills into law, would now like to offer his thoughts and prayers.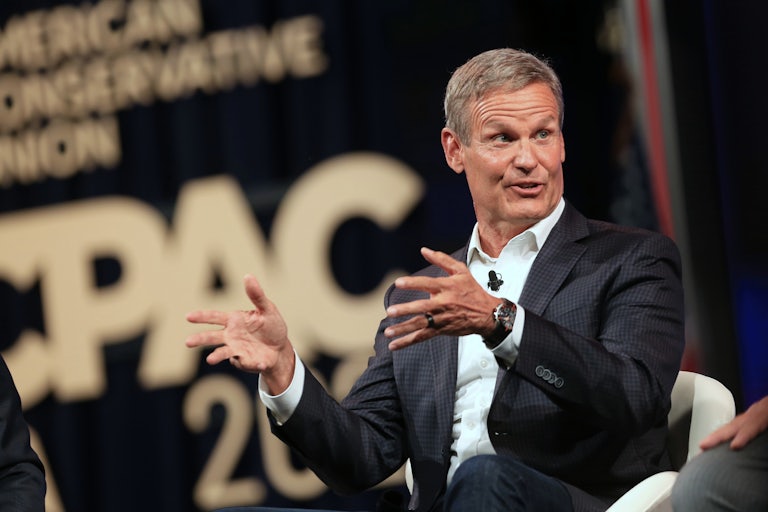 Dylan Hollingsworth/Bloomberg/Getty Images
Tennessee Governor Bill Lee
After every mass shooting, it's inevitable. Republican lawmakers share hollow "thoughts and prayers," while they refuse to offer much more, often buoyed by thousands of dollars in dirty gun lobby money. They call for mental services they themselves won't fund. And they blame anything but the guns themselves (even doors!).

Monday's mass shooting at a Christian elementary school in Nashville, Tennessee, was no different.
Following the shooting in his state, Tennessee Governor Bill Lee appealed to "please join us in praying for the school, congregation & Nashville community," offering no idea, for instance, of how to achieve a reality where constant prayer and hollow thoughts are no longer needed.
His uselessness is unsurprising, given the large role he has played in making it easier for mass shooters in his state to access guns. In 2021, Lee signed a bill that allowed people to openly carry handguns without permits; the policy was at the forefront of his legislative agenda for the year. He proudly thanked the National Rifle Association "for helping get this done."

Specifically, the bill allowed people 21 and older to carry handguns, openly or concealed without a permit, and allowed the same for members of the military between the ages of 18 to 20.

When the bill first passed the state House, Republican Majority Leader William Lamberth said it was "not the end of the journey" for expanding gun rights in Tennessee.
And he was right. Just last month, Tennessee Republicans embarked on another push to allow all 18- and 19-year-old residents to carry handguns without permits. The House version of the bill changes the policy to include any firearm, not just handguns—and yes, this would include weapons the likes of AR-15 rifles and shotguns. The bill would also have Tennessee recognize any out of state permit as valid "as if it is a firearm carry permit issued in this state."
As of 2020, Tennessee was among the top 10 deadliest states in the country from firearms.
Meanwhile, as Tennessee Republicans have dedicated any gun-related thoughts toward making it easier for people to be mowed down, they've had their hands full elsewhere too. Lee, who has worn drag himself, signed a radical law making Tennessee the first state to ban drag performances. The Tennessee state House passed another radical bill allowing government employees to reject marriage licenses of same-sex, interfaith, or interracial couples. Concurrently, Tennessee state Senate Republicans passed a bill that would prevent trans people from being able to have their state-issued IDs reflect their identities. If Tennessee passes the bill, it could lose almost $1.3 billion in federal education funding; that they're seemingly ready to pass the bill anyway shows how viciously eager they are to continue attacking trans people.
Tennessee Republicans have made existence more distressing by virtue of their inaction on gun regulation and in fact making gun access even easier; this sad excuse of governance is paired with their hyperfocus on further policing and punishing marginalized people for existing at all.