Trump Has Raised Way Too Much Money on Those Weird NFTs
Someone created a real-time tracker of Donald Trump's NFT sales, and it's wild.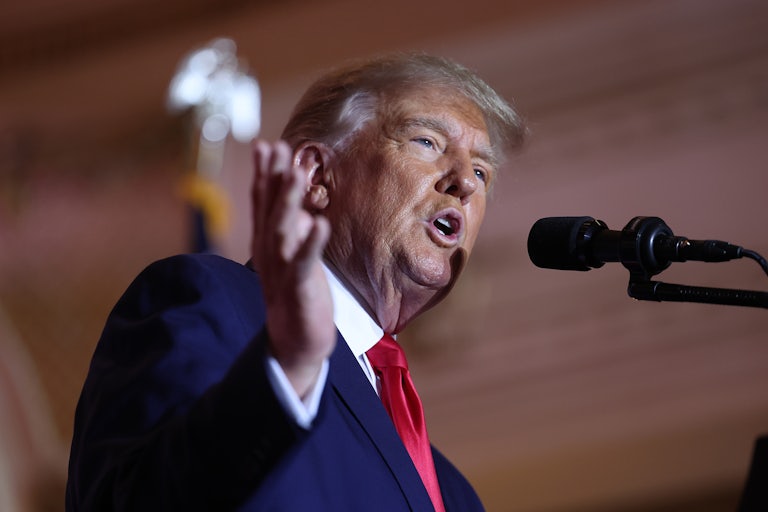 Joe Raedle/Getty Images
Sometimes the internet is a wonderful place. It looks like someone or some users at Dune.com, a website that allows users to make their own analytical tools, have created a real time tracker of former President Donald Trump's NFT sales.
As of my typing this, Trump has made more than $1 million off of nearly 4,000 holders and over 12,000 mints, according to the tracker. (A holder is someone who buys NFTs, and a mint is the NFT itself.)

To recap, Trump had been hyping up a big announcement over the past few days. Turns out it was a new series of NFT of Trump dressed up as a superhero... because of course it was.

It's not immediately clear what Trump plans to do with the money, if the buyers think they're actually effectively funding his latest presidential campaign, or really if Trump even knows what an NFT is. On the Collect Trump Cards website, it says that anyone who buys 45 cards gets a guaranteed "ticket to a dinner with the president."

Under the website's FAQ question, one question asks if profits from the NFTs will go to Trump's 2024 presidential campaign. In a jargony response, the website says no.

"NO. These Digital Trading Cards are not political and have nothing to do with any political campaign," the FAQ section says. "NFT INT LLC is not owned, managed or controlled by Donald J. Trump, The Trump Organization, CIC Digital LLC or any of their respective principals or affiliates. NFT INT LLC uses Donald J. Trump's name, likeness and image under paid license from CIC Digital LLC, which license may be terminated or revoked according to its terms."
On Trump's Truth Social social media site, he wrote that "These limited edition cards feature amazing ART of my Life & Career! Collect all of your favorite Trump Digital Trading Cards, very much like a baseball card, but hopefully much more exciting."
Anyway, you can monitor these sales here.