Oregon Governor Commutes Sentences of Everyone on Death Row
In her final weeks in office, Oregon Governor Kate Brown called the death penalty "immoral" and commuted sentences for all 17 inmates on death row.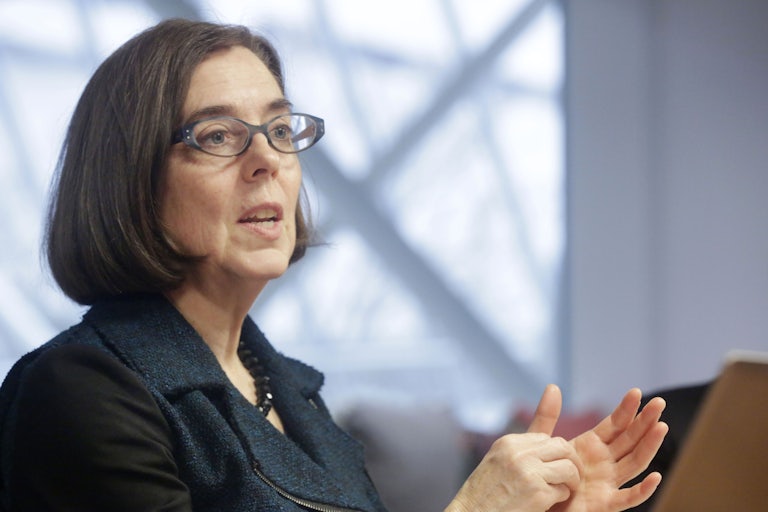 Meg Roussos/Bloomberg/Getty Images
Oregon Governor Kate Brown
On Tuesday, Oregon Governor Kate Brown announced the state will be commuting the sentences of all 17 people on death row in the state, moving them instead to life in prison without the possibility of parole.
"I have long believed that justice is not advanced by taking a life, and the state should not be in the business of executing people—even if a terrible crime placed them in prison," Brown said in a statement.
Brown's action pushes forward with moratoriums first established by her Democratic predecessor, John Kitzhaber, in 2011.
"I also recognize the pain and uncertainty victims experience as they wait for decades while individuals sit on death row—especially in states with moratoriums on executions—without resolution. My hope is that this commutation will bring us a significant step closer to finality in these cases."
Brown's decision, made as she prepares to depart office after being term-limited, follows a growing opposition to the death penalty. Twenty-three states and Washington, D.C., have abolished the death penalty, while two others, California and Pennsylvania, have governor-issued moratoriums, as Oregon previously had. The death penalty is still legal in 27 states, including the states with moratoriums.
According to the Death Penalty Information Center, 17 people have been executed in 2022, all in Alabama, Arizona, Missouri, Oklahoma, and Texas, as of November 29. And as of April 1, over 2,400 people are on death row.
"The death penalty is immoral. It is an irreversible punishment that does not allow for correction; is wasteful of taxpayer dollars; does not make communities safer; and cannot be and never has been administered fairly and equitably," Brown said.
More on the Death Penalty