First Gen Z Member of Congress Says He Can't Find an Apartment Due to Bad Credit
Representative-elect Maxwell Frost said he was denied an apartment in Washington, D.C., due to his "really bad" credit.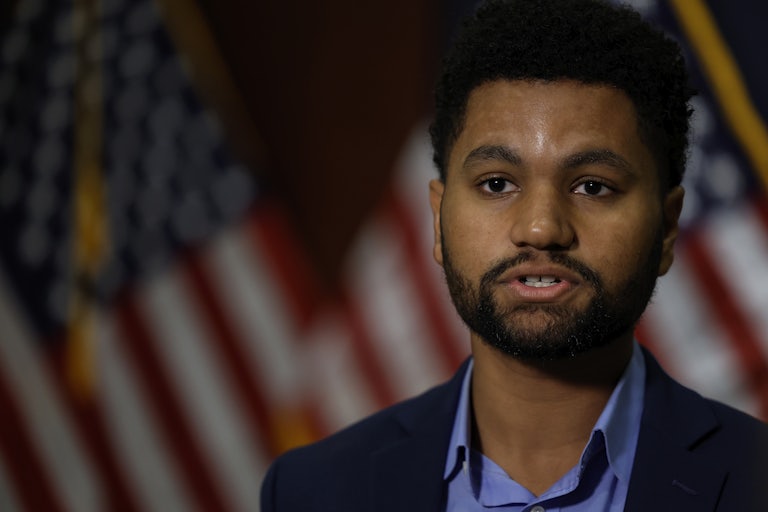 Anna Moneymaker/Getty Images
Representative-elect Maxwell Frost
On Thursday, Representative-elect Maxwell Frost, who will become the first Gen Z member of Congress, said he was denied an apartment in Washington, D.C., due to his "really bad" credit. He also lost his application fee.
Such an outcome is familiar to many. After all, housing nationwide seems to only get increasingly expensive, as landlords and rental companies enjoy the mountain of fees they rake in from renters desperate to find a home.
The ridiculousness of it all is only heightened while individuals elected to serve in the nation's capital can't even afford to live there.
Like Frost, Representative Alexandria Ocasio-Cortez was a member who, upon arriving in D.C. in 2018, had trouble finding housing before receiving her congressional salary of $174,000.
Frost explained that his credit worsened after he ran up debt while campaigning over the past year and a half, noting he did not make enough money driving for Uber.

"It isn't magic that we won our very difficult race," Frost wrote. "I quit my full time job cause I knew that to win at 25 yrs old, I'd need to be a full time candidate. 7 days a week, 10-12 hours a day. It's not sustainable or right but it's what we had to do."
The amount of money a candidate has is important—particularly if you are a challenger like Frost or Ocasio-Cortez, whose races required all the more time and effort to win.
How difficult it is for someone to get involved in a country's politics tells you something about said country. Especially if that country purports to be a "representative democracy." Frost offers yet another example of how America really does not encourage working people—who perhaps need the most advocacy in halls of power—to get involved.