Nearly Every Republican Tulsi Gabbard Endorsed Lost the Election
Since leaving the Democratic Party, Gabbard endorsed 13 Republican candidates. Ten lost.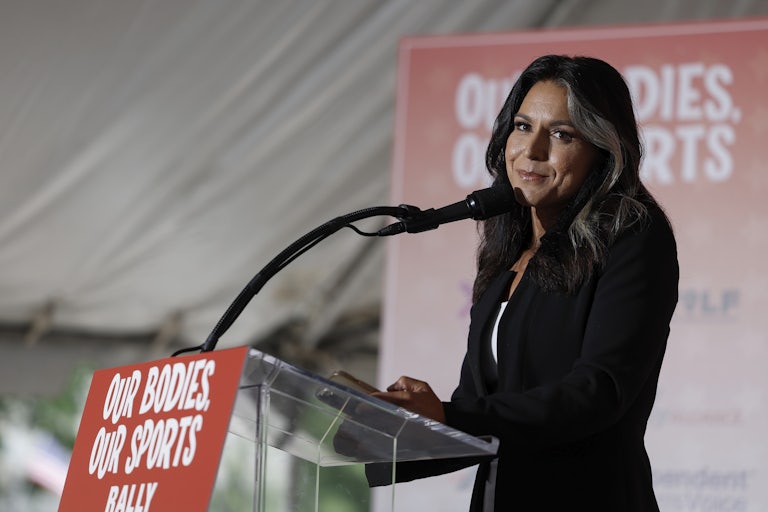 Anna Moneymaker/Getty Images
On October 11, Tulsi Gabbard proudly announced her departure from the Democratic Party. Calling on "fellow common sense independent-minded Democrats" to join her, Gabbard wasted no time on her new path, endorsing 13 Republicans before the midterm elections.
Many of the races were high-stakes. Among Gabbard's endorsements were election denialists and conspiracy theorists.

Ten out of the 13 candidates she endorsed went on to lose their election.
Here is a full list of her failed endorsements:

House
John Gibbs, Michigan's 3rd district

Tom Barrett, Michigan's 7th district

Joe Kent, Washington's 3rd district
Senate
Blake Masters, Arizona

Adam Laxalt, Nevada

Don Bolduc, New Hampshire
Governor
Kari Lake, Arizona

Darren Bailey, Illinois

Tudor Dixon, Michigan

Lee Zeldin, New York
Only three candidates she endorsed won the election: J.D. Vance for Ohio senator, Mike Lee for Utah senator, and Kristi Noem for South Dakota governor.
Gabbard's shift to the right is not surprising. Beyond appearing at CPAC this year, she has found a home in right-wing media for some time. There, she has focused less on bringing conservatives closer to her and more on bringing herself closer to them—criticizing the impeachment inquiry into former President Donald Trump as "partisan," complaining about "open borders," and even filling in for Tucker Carlson on his show.
Though Gabbard's endorsements have largely failed, her efforts are paying dividends for her own self-interest. On Monday, MAGA Republican Matt Gaetz floated Gabbard as a potential speaker of the House candidate. That same day, Gabbard officially signed a deal with Fox News to join the network as a paid contributor. And in the evening, Gabbard once again hosted Carlson's program.
If Gabbard expected to coast into the GOP on a red wave, one bolstered by her "free-thinking" endorsements, she might be disappointed with the results. She's not alone, of course. Donald Trump has an even longer list of failed endorsements. Now both seek to fail upward—Gabbard, as she becomes a mainstay of the right-wing media sphere, and Trump, who is expected to soon announce his third consecutive bid for the presidency.