You'll Never Guess Who the Far Right Wants for Speaker. Actually, You Will.
The race is on to find the next House speaker—and a few Republicans are floating a very familiar name.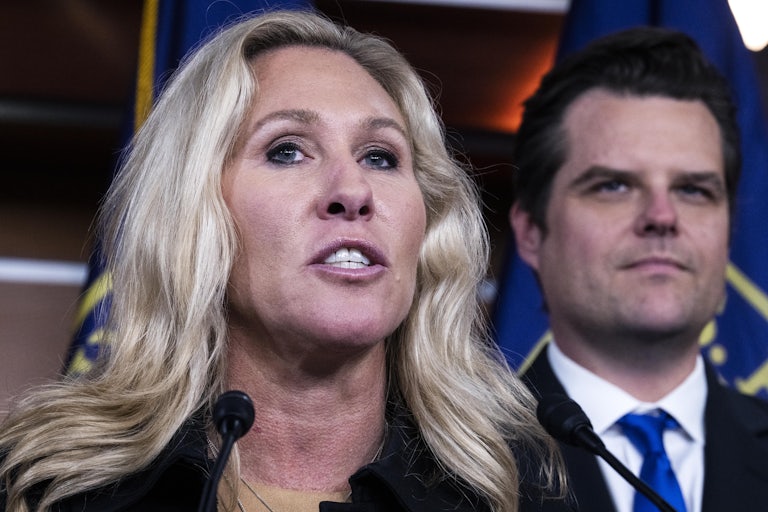 Tom Williams/CQ-Roll Call, Inc/Getty Images
Representatives Marjorie Taylor Greene and Matt Gaetz
Republicans have booted Kevin McCarthy as speaker of the House. But don't worry, they already have a great plan to replace him.
For the first time in U.S. history, the House voted Tuesday night to vacate the speakership. Most Republicans, including the ones who voted to kick McCarthy out, quickly made it clear that they have no idea what actually happens next. But a candidate soon began to emerge: Donald Trump.
Freedom Caucus member Troy Nehls was one of the first to suggest the former president as a candidate for speaker.
His call was soon taken up by other far-right Republicans, such as Greg Steube and Marjorie Taylor Greene.
Luckily for them, the quadruply indicted, liable-for-sexual assault, defamation, and business fraud presidential candidate may make some time in his calendar to step up to the plate. Fox News's Sean Hannity reported late Tuesday that Trump is "open to helping the Republican Party, at least in the short term, if necessary."
This isn't the first time that Republicans have tried to put Trump forward as speaker. During the 15 grueling votes for speaker in January, Matt Gaetz nominated Trump as speaker instead of voting for McCarthy.
Gaetz, who filed the motion to vacate McCarthy, has yet to join in the calls for Trump. He has expressed support for both Steve Scalise and Jim Jordan. Gaetz and several other Freedom Caucus members voted several times for Jordan over McCarthy in January, despite the fact that Jordan backed McCarthy and made it clear he had no interest in holding the gavel.
But even Gaetz may come around to the idea of Trump as House speaker: Earlier this week, he pointed out that the next leader of the House does not need to be a member of the chamber.
Unfortunately, Republicans' own House rules may bar Trump from holding the speakership. As Democratic Representative Sean Casten pointed out, the rules clearly state that a member of Republican leadership must step aside if they have been "indicted for a felony for which a sentence of two or more years imprisonment may be imposed."