MAGA Candidate's Photo of Racially Diverse Friends Wasn't What It Seemed
The Republican candidate first claimed the women in the photo were her supporters. Then she changed her story.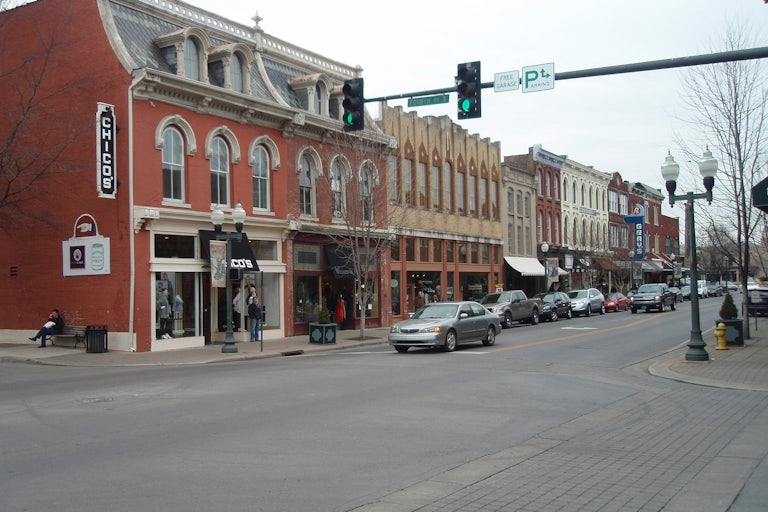 Ichabod/Wikipedia
Franklin, Tennessee
A MAGA Republican candidate for mayor of Franklin, Tennessee, used other people's social media posts to pretend they were her supporters, a new investigation has revealed.
The city of Franklin votes for mayor on October 24. Gabrielle Hanson, an alderman, is running against incumbent Mayor Ken Moore. Both of them are Republicans.
Hanson posted two photos to her campaign's social media accounts last month, one of a large crowd at an event she described as a "meet and greet" and another of a group of women in a restaurant. Both photos show racially diverse groups of people.
But neither photo is from a campaign event. In fact, neither photo was even taken this year, NewsChannel5 reported Tuesday.
Both photos were taken in Chicago in 2016. The photo of the crowd has since been deleted, but the picture of the group of women is still up on Hanson's Facebook page (with a new caption). NewsChannel5 tracked down some of the women in the photo, and all of them were outraged that Hanson had used the image without their permission.
One woman, speaking anonymously, said she was "appalled, absolutely appalled."
Another woman, identified as April, said she does not support Hanson. "I actually do not know who that is," she told NewsChannel5.
April explained the women in the photo had been chosen for an ad campaign with the clothing brand The Limited, and they had all gone to brunch afterward. Some of the women said Hanson may have been part of the campaign too, but she wasn't at the brunch.
Hanson, however, doubled down on her claim in a phone interview with NewsChannel5. She refused to answer any of reporter Phil Williams's questions, instead insisting that the women were her supporters or friends who live all over the country and threatening Williams with legal action.
But the women in the photo maintained that Hanson is lying.
"I am appalled at the misuse of this photograph and the inaccurate representation of what is happening in it," a third woman, speaking anonymously, said in a statement to NewsChannel5.
"Such blatant falsehoods being published exemplify the character of a candidate. As I've learned more about Gabrielle Hanson and her views, such an egregious attempt to show diverse female support is disgusting."

Hanson voted in June to block Franklin's Pride celebrations. She tried to pressure sponsors to stop funding a Juneteenth celebration, and she opposed building remembrance monuments at spots where lynchings occurred.