Supreme Court Clears Way for Mountain Valley Pipeline, as Earth Reaches Hottest Temp
This is a blow to environmental groups everywhere.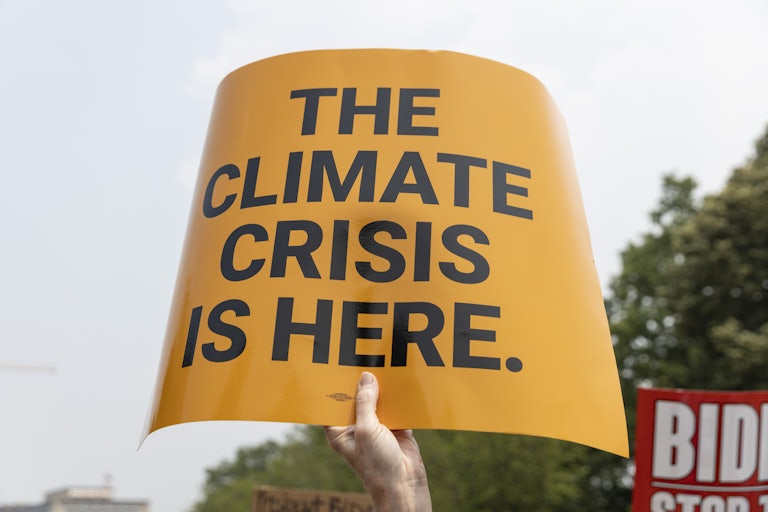 Mostafa Bassim/Anadolu Agency/Getty Images
A Stop Mount Valley Pipeline rally in front of the White House on June 8
The Supreme Court ruled Thursday that construction on the controversial Mountain Valley Pipeline could continue, a huge win for Senator Joe Manchin and a blow to environmental groups.
Manchin had demanded that permits for the pipeline be included in the debt ceiling deal in exchange for his supporting the bill. Democrats agreed, infuriating environmental activists and politicians alike. Two separate appeals courts issued stays on the pipeline earlier this month, one of which determined that the pipeline would violate the Endangered Species Act.
But the Supreme Court agreed to lift the lower court orders and allow construction to continue. There were no public dissents, even from liberal justices, a rare occurrence on the politically divided bench.
The pipeline will run more than 300 miles from northern West Virginia to southern Virginia, possibly even into Northern California. It will carry fracked gas, which is proven to be the cause of surging global methane emissions—a major contributor to climate change.
But President Joe Biden has backed the pipeline, despite opposition from other Democrats. Virginia Senator Tim Kaine, who represents one of the regions that will be most affected by construction, was particularly furious that the pipeline was included in the debt bill instead of moving through the standard process.
The ruling also comes as states from coast to coast struggle with triple-digit temperatures. July is set to be the world's hottest month on record.
Meanwhile, Republican lawmakers are not just burying their heads in the sand over the heat wave but actively plotting to undermine Biden's environmental policy plans.
The GOP is blocking Biden from declaring a national emergency over climate change, introducing a bill that bars him from directing resources to address the life-threatening crisis. The House and Senate sponsors of the bill have received about $5 million from fossil fuel interests just over the past five years.
This story has been updated.