Trump Super PAC Paid Melania Six Figures to Speak at Their Own House: Report
The payment was not visible in the super PAC's initial federal reports.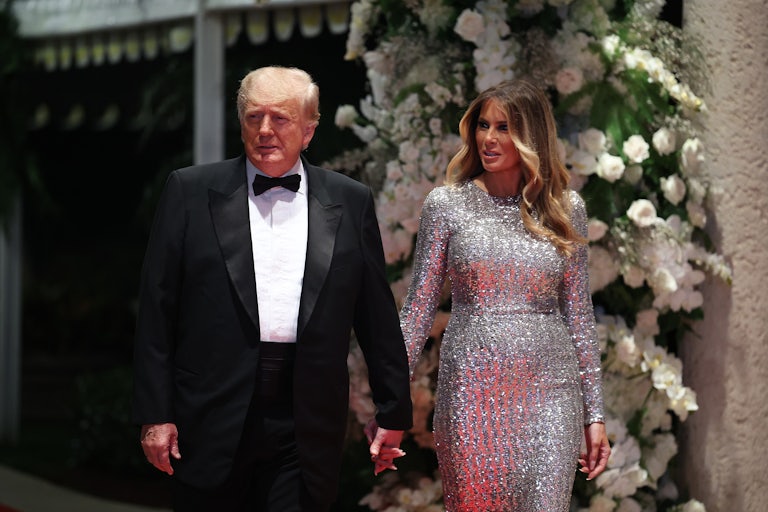 Joe Raedle/Getty Images
When it comes to Donald Trump, it's all just one, giant grift.
A new report from The New York Times published Thursday reveals that the top super PAC affiliated with the former president paid Melania Trump $155,000 for a "speaking engagement" at their own residence in Mar-a-Lago.
In other words, Trump effectively got his biggest supporters to pay his wife six figures to speak at his fundraising event at his house.

The payment to Melania—made in December 2021 by Donald Trump's super PAC at the time, Make America Great Again, Again (which has since shuttered)—was not listed on the super PAC's list of expenditures made public last year. Instead, the hefty remittance to his wife was initially disclosed as two payments (of $125,000 and $30,000) to the "Designer's Management Agency," where Melania is a client.
In a personal financial disclosure filed Thursday, Trump made clear that the super PAC's $155,000 December 2, 2021 expenditure went to his wife. That payment lines up with a private fundraising dinner for the super PAC, held at the Trumps' residence at Mar-a-Lago. One seat at that event cost $125,000.
"The Make America Great Again, Again super PAC also spent more than $350,000 at Mar-a-Lago in 2021 and 2022," the Times notes.
This is not the first time that Trump has used his presidency and political campaigns to make his own family richer. CREW has tracked more than 3,700 conflicts of interest when it comes to the Trump family—like events held at Trump properties, publicly promoting the Trump Organization as president, to boosting his own pocket with countless visits to Trump hotels and golf courses.