Biden Kicks Off "Summit for Democracy" With Netanyahu and Modi
What a joke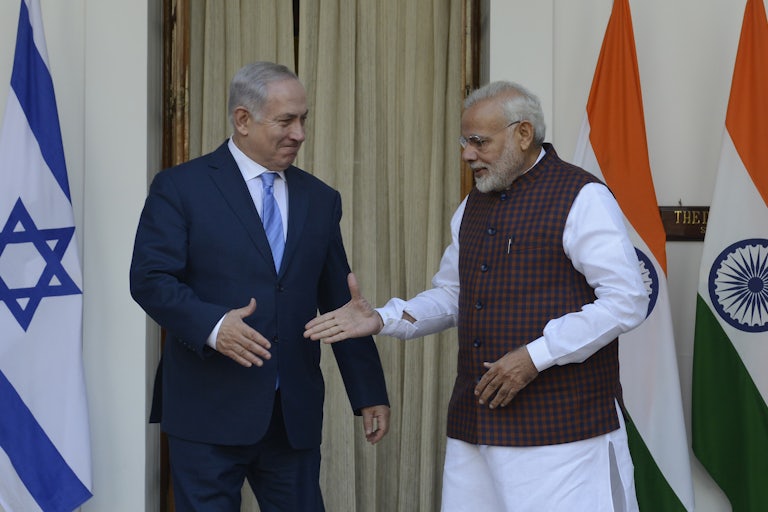 Pankaj Nangia/The India Today Group/Getty Images
Indian Prime Minister Narendra Modi and Israeli Prime Minister Benjamin Netanyahu during a press conference in New Delhi on January 15
On Wednesday, President Biden kicked off his "Summit for Democracy" with a panel of explicitly undemocratic world leaders. Panel members included India's Narendra Modi, Israel's Benjamin Netanyahu, and Italy's Giorgia Meloni.
While the summit overall hosted leaders from all over the world, this specific panel was focused on "Democracy Delivering Economic Growth and Shared Prosperity." All three far-right leaders pretended to care about democracy, while ignoring their own records.
During the summit, Indian Prime Minister Modi sermonized on how India was "the mother" of democracy. "Democracy is not just a structure; it is also a spirit. It is based on the belief that the needs and aspirations of every human being are equally important," Modi said. "That is why, in India, our guiding philosophy is 'Sabka Sath, Sabka Vikas,' meaning 'striving together for inclusive growth.'"
Modi, of course, has been at the helm of an extremist rise in Hindu nationalism in India. As chief minister of the Indian state of Gujarat in 2001, Modi oversaw a massive riot rumored to have been spurred by government and police officials who sought to target Muslims. The riot left more than 1,000 people dead—some 75 percent of whom were Muslim.
His authoritarian tendencies have only increased since he rose to power as prime minister in 2014. In recent months, Modi has blocked the airing of a BBC documentary questioning his leadership during the Gujarat riots; conspired with Twitter CEO and billionaire Elon Musk to conduct a mass censorship campaign against dissidents, including imposing a mass internet shutdown across the state of Punjab; and overseen the arrest of an opposition leader for "defamation." This doesn't even include basic features of Modi's reign, like being the first Indian leader to not take questions at press conferences, or the ongoing Hindutva nationalist campaign that targets Muslims and other religious minorities.

Netanyahu, meanwhile, on Wednesday proudly assured that "Israel was, is, and always will remain a proud democracy at the heart of the Middle East." He went on to dismiss the massive protests against his judicial overhaul plan, which would help cement power for his own government and potentially help him avoid corruption investigations, as "a very intensive public debate."
Israel, of course, is not a thriving democracy, as it operates on a system of apartheid that targets millions of Palestinians. It would be laborious to summarize all the cruelties of this occupation here, or Netanyahu's role in furthering them, but so far this year, Israeli forces have killed at least 90 Palestinians, 17 of whom were children (that's an average of at least one Palestinian a day).
Italian Prime Minister Meloni spoke glowingly of how "only a democratic system" can guarantee "growth, justice, equality, [and] legality." But she opposes abortion rights and same-sex marriage and has said she wants to make it unconstitutional for gay people to adopt a child. She has opposed a 1993 law that punished people involved in racial, ethnic, and religious discrimination or the incitement of hate crimes. She holds rampant anti-immigrant and nationalist views and has stoked antisemitic and racist conspiracies related to George Soros and the "great replacement" white nationalist theory.
Meloni has also attended the Conservative Political Action Conference—a bastion of the most radical figures in American society—twice, once in 2019 and again 2022. She peddled more of her fearmongering around immigrants and "globalism" while there.
Almost too spot-on, Meloni has called Modi the "most loved leader in the world," and she tried to assuage fears of her extremism during her 2022 campaign by likening herself to Netanyahu's Likud Party in Israel and America's Republican Party.
Other world leaders who spoke on Wednesday's panel carry their own baggage. Greek Prime Minister Kyriakos Mitsotakis's administration, in Modi-like fashion, has carried out a surveillance campaign against members of the press and politicians. Kenyan President William Ruto was previously charged by the International Criminal Court for crimes against humanity after he allegedly orchestrated postelection violence that killed more than 1,300 people.
That these leaders were deemed appropriate to speak on democracy is an indictment not just of the White House but of international political conventions. Such traditions allow anti-democratic states and leaders (including America) to posture as beacons of democracy anyhow, and they desensitize the rest of us from clear-as-day authoritarianism.