Kevin McCarthy Officially Boots Schiff and Swalwell From House Intelligence Committee
Meanwhile, the House speaker is also pushing for a vote to remove Ilhan Omar from the Foreign Affairs Committee.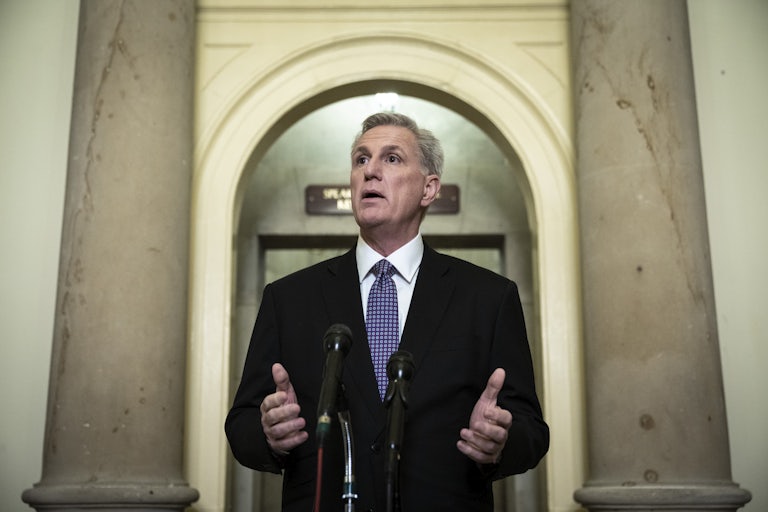 Drew Angerer/Getty Images
House Speaker Kevin McCarthy has unilaterally moved to remove Representatives Adam Schiff and Eric Swalwell from the House Intelligence Committee.
McCarthy made his decision to reject the pair's reappointments to the committee on Tuesday night, citing supposed "misuse of this panel during the 116th and 117th Congress."
At a conference the same evening, McCarthy expounded after a reporter asked how he can support placing serial liar George Santos on committees while blocking Democrats from serving on particular ones. The House speaker spoke forcefully as he recycled old talking points.
McCarthy cited a briefing he received on Swalwell's alleged connections to a Chinese spy, arguing that this disqualified Swalwell from serving on the Intelligence Committee. Axios reported on what actually happened: A suspected Chinese operative developed ties with politicians in the Bay Area, interacting with Ro Khanna, Tulsi Gabbard, Swalwell, and others. But Swalwell has not been found to have actually done anything wrong; once the FBI alerted Swalwell about its concern for the operative, he immediately cut ties with her.
As for Schiff, McCarthy seems to be targeting him for allegedly lying about whether he knew the whistleblower who prompted the impeachment inquiry into whether former President Trump pressured Ukrainian President Zelenskiy to investigate Joe Biden in exchange for military aid. There's no hard proof of Schiff lying about this, and McCarthy and Republicans just as well have aimed to invalidate the impeachment inquiry overall.
McCarthy had said that he will respect the will of the voters to defend his refusal to block Santos from committees, or even push for his removal; he has used the same logic in saying he will still allow Schiff and Swalwell on other committees. A good-faith interpretation would show McCarthy is at least principled in his committee delegation. But his rationale for blocking Schiff and Swalwell from committees seems less about actual security concerns and more about teeing off on Democrats who heavily invested in impeaching Trump.
In the last Congress, Democrats removed Marjorie Taylor Greene and Paul Gosar from committees after they incited violence against other members of Congress.
Meanwhile, McCarthy has been pushing the House to vote to block Representative Ilhan Omar from serving on the House Foreign Affairs Committee, where she has served for the past four years. A Somali American Muslim woman and vocal critic of human rights abuses by governments—including ones the United States has allied itself with—Omar is an easy target for a Republican Party undergirded by both racism and undying allegiance to America, no matter the abuses it is guilty of or contributes to.

Schiff, Swalwell, and Omar released a joint statement calling out McCarthy's actions as being part of a "corrupt bargain in his desperate, and nearly failed attempt to win the Speakership, a bargain that required political vengeance against the three of us."