Mike Pompeo Blasted for Calling Jamal Khashoggi an "Activist" Whose Murder Got Too Much Attention
Trump's former secretary of state said the killing of Jamal Khashoggi, a U.S. resident and Washington Post journalist, was overblown.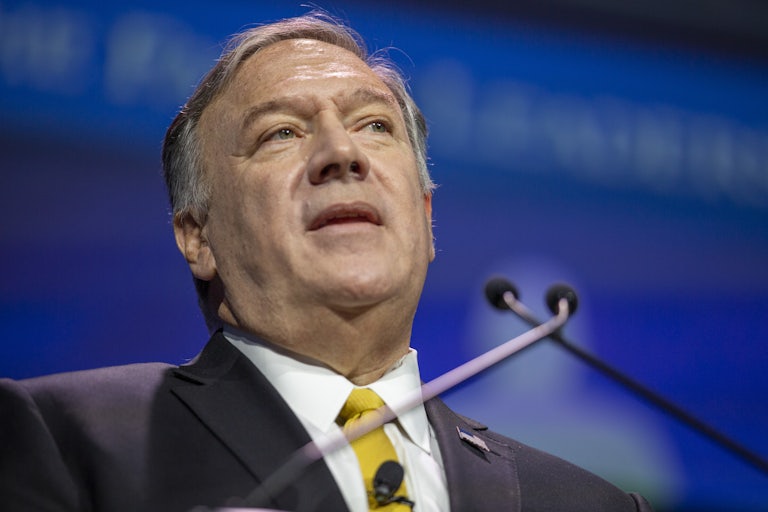 Rachel Mummey/Bloomberg/Getty Images
Former Secretary of State Mike Pompeo is under fire for his comments about Jamal Khashoggi, the The Washington Post journalist who was brutally murdered by agents of the Saudi Arabian regime in 2018.
Khashoggi was a columnist at the Post and a prominent critic of the Saudi kingdom. He was last seen alive in October 2018 entering the Saudi consulate in Istanbul to collect paperwork. Saudi Crown Prince Mohammed bin Salman is accused of ordering a team of Saudi agents to capture and dismember Khashoggi.
In his new book, Pompeo magnanimously acknowledges that Khashoggi's killing was "outrageous, unacceptable, horrific," but he spends several pages decrying what he considers the "disproportionate global uproar" and "faux outrage" over the journalist's death.
Pompeo argues that Khashoggi was an activist, not a journalist, and his death was blown out of proportion by a media that was trying to fracture U.S.-Saudi ties.

Post publisher and CEO Fred Ryan released a statement Tuesday slamming Pompeo's comments as "shameful" and "vile falsehoods," noting that the CIA—which Pompeo led from 2017 to 2018—had concluded that Khashoggi was murdered on the orders of MBS, as the Saudi prince is known.
Pompeo proceeded to dig his heels in, insisting the U.S. was better off not trying to make Saudi Arabia a "pariah state"—which President Joe Biden seems to have failed to do anyway—and falsely labeling Khashoggi a "part-time stringer," as if his employment status makes his fate more or less worthy of outrage.
"Whatever [Pompeo] mentions about my husband, he doesn't know my husband. He should be silent and shut up the lies about my husband," Hanan Elatr Khashoggi, the journalist's widow, told NBC News. "It is such bad information and the wrong information.… This is not acceptable."
Pompeo is rumored to be considering a 2024 presidential run and is clearly trying to curry favor among the main base of his former boss Donald Trump. Pompeo is embracing similar themes of friendliness toward Saudi Arabia and strongmen, as well as hostility toward journalists and peddling falsehoods.