Lauren Boebert Says No House Speaker Means Congress Isn't Spending Money (That's Not True)
Boebert, who has been opposing Kevin McCarthy's bid for House speaker, doesn't seem to entirely understand what that means.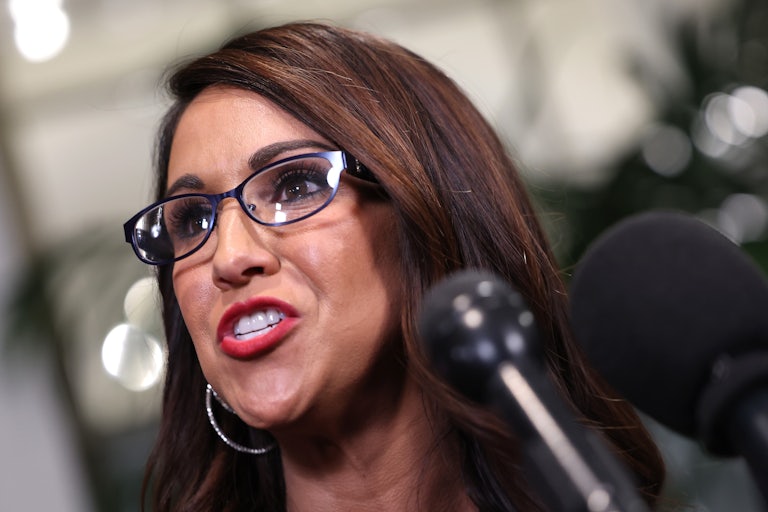 Kevin Dietsch/Getty Images
Lauren Boebert seems to think that just because the House of Representatives is at a standstill, so is the entire U.S. government.
The far-right Colorado representative spent all Tuesday trying to spin the six consecutive fruitless votes for speaker of the House as a win, insisting that if Congress wasn't able to do anything, then it couldn't spend money.
But as MSNBC host Stephanie Ruhle pointed out, that's not the case at all.
Any legislation passed in the previous Congress, such as the enormous $1.7 trillion omnibus spending package, is already in motion. Just because the House is completely dysfunctional now doesn't put that funding on hold.
It's worth noting that federal spending also covers items such as Boebert's salary, transportation, and security, so she should probably hope that it doesn't stop.
Boebert is one of 21 holdouts against Kevin McCarthy's bid for speaker of the House. She and 18 other far-right Republicans have voted against him every round. They were joined at the end of Tuesday by Representative Byron Donalds, whom the group put forward as a challenger on Wednesday. Representative Victoria Spartz switched Wednesday from voting "yes" to McCarthy to "present."
Boebert insisted on the House floor Wednesday that McCarthy does not have the votes to become speaker and should withdraw. In the weirdest twist, Fox News host Sean Hannity noted that she and her cohort also do not have enough votes and should probably also withdraw.
The anti-McCarthy group is refusing to budge, though, and other Republicans have inadvertently begun to say the quiet part out loud: They don't actually care that much about governing, anyway.