Trump's Deadline To Hand Over Subpoenaed Documents to the January 6 Committee Is Here
It's still unclear if the former president will comply with the deadline.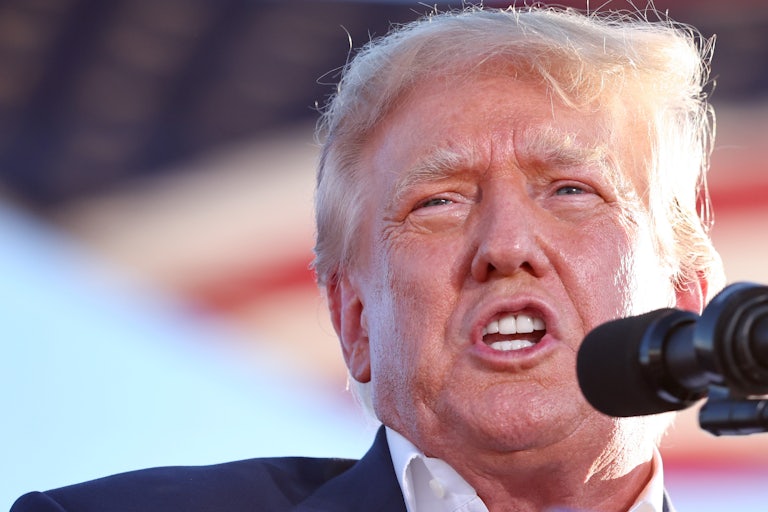 Mario Tama/Getty Images
It's the deadline for former President Donald Trump to turn a slew of subpoenaed documents over to the House committee investigating the January 6 attack on the U.S. Capitol, but there's no word on whether he'll actually comply.
The committee had given Trump until Friday to hand over electronic messages, call logs, photos, videos, and even handwritten notes going back as far as September 2020.
It's unclear whether Trump will meet the deadline, although committee Vice Chair Liz Cheney has said that the investigators are in contact with his legal team.
"This is not a situation where the committee is going to put itself at the mercy of Donald Trump in terms of his efforts to create a circus," she told PBS reporter Judy Woodruff on Tuesday during an event at Cleveland State University.
"He has a legal obligation to testify, but that doesn't always carry weight with Donald Trump," Cheney noted.
In the subpoena, issued on October 21, the committee asked for call logs, text and encrypted message records, photos, videos, and any notes about those conversations. In particular, the panel requested any conversations with the extremist groups the Proud Boys and Oath Keepers that may have taken place since September 2020.
The committee also requested communications with former Trump advisors Roger Stone, Stephen Bannon, and Michael Flynn, as well as lawyers John Eastman and Rudy Giuliani.
It is unclear what the panel will do if Trump does not comply—Cheney declined to say—but Bannon was recently sentenced to four months in prison for failing to comply with another of the committee's subpoenas.
In addition to the House committee, Trump is under fire on multiple fronts, facing two lawsuits in New York, where he has been charged with business fraud and his organization accused of tax fraud. The FBI is also investigating his storing sensitive government documents at Mar-a-Lago after leaving office.
He spent Friday morning trashing the New York attorney general Letitia James, as well as presiding Judge Arthur Engoron, who on Thursday ruled that given the "persistent misrepresentations throughout every one of Mr. Trump's [financial statements] between 2011 and 2021, the Court finds that the appointment of an independent monitor is the most prudent and narrowly tailored mechanism to ensure there is no further fraud or illegality."
"The New York State Court System is being ridiculed all over the World!" Trump said on his Truth Social platform. "You have a Corrupt, Racist, Weak on Crime Attorney General."
"Then you have a highly political, biased Judge, who is totally controlled by my worst enemies. His rulings and manner are SICK."