The Right-Wing Groups Behind the War on ESG
A new report sheds light on state-level legislative attacks on the right's newfound obsession.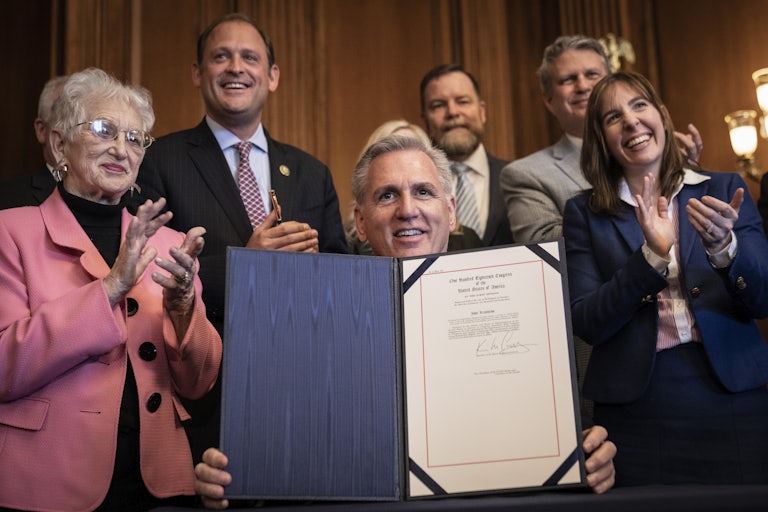 Drew Angerer/Getty Images
House Speaker Kevin McCarthy signed an anti-ESG resolution in March.
If you'd have told me a couple years ago that ESG—an acronym for environmental, social, and governance principles—would be a major talking point of the 2024 Republican presidential primary, I would have laughed in your face. ESG began to gain popularity over the past decade in the financial sector amid shareholder pressure on corporations to incorporate environmental and social risks into investments as well as customer demand for Wall Street firms to provide more responsible investment options. What ESG definitely wasn't was a Greta Thunberg–level Marxist revolution. BlackRock, of all companies, is on board with ESG.

Try telling that to the GOP. Over the past year, the right has turned viciously against this once boring investing principle, devoting chyrons on Fox News to the threat of "woke capitalism" and holding full House hearings to rage against the "cabal of global elites" supposedly behind the ideal. But anti-ESG sentiment on the right isn't just a cable news talking point. A new report reveals the full scope of state-level legislative attacks on ESG, showing that they're in fact part of a highly coordinated, national Republican offensive.
The report, released last week from research firm Pleiades Strategy, found that by the middle of 2023, Republican lawmakers in 37 states had introduced at least 165 bills and nine resolutions designed to target and/or eliminate ESG in state-level investment strategies and contracts. Most of these proposals were inspired by a handful of draft bills created by GOP dark-money powerhouses like the American Legislative Exchange Council, the Heartland Institute, the Heritage Foundation, and the Texas Public Policy Foundation. Many of these organizations are members of the State Policy Network, a conservative group of think tanks that push so-called model legislation at the state level and have ties to the oil and gas industry and histories of pushing climate denial.
This state-level war on ESG isn't going very well—not legislatively, anyway. Only 31 of those 165 bills and resolutions ended up passing, the report found; several of the successful ones only made it through legislatures after significant changes that effectively kneecapped many of their limits on financial entities. Meanwhile, 83 of the bills—just about half—failed to pass altogether or were vetoed by governors. (Of the other half of those 165, around a dozen are still active or have not had committee hearings, while 42 bills did not pass this session but will be readopted in future.)
This isn't terribly surprising given that the targets of these anti-ESG bills are banks, businesses, and pension funds. In at least 17 states, the report finds, anti-ESG legislation met substantial opposition from business lobbyists. State-level chambers of commerce and bankers' associations in various states have spoken out against the proposed laws. Many opponents of the bills also conducted state-level analyses that showed that they would do substantial financial damage to constituents if they passed.
Many have noted the irony that the party that professes to worship the free market now wants to tell private and public companies alike that they can't manage their money however they please. But Republicans aren't backing down in their anti-ESG fight, despite pushback from the business community.
"We used to be able to go to [lawmakers] and say, 'Hey, this is going to hurt free markets and have a negative regulatory effect,'" Steven Killian, director of government relations for the Arizona Bankers Association, told The Washington Post. "They just don't want to hear it anymore. They're more interested in the political fight."
And what's the goal of that fight? A lot has changed since Senator James Inhofe tossed a snowball on the floor of Congress to disprove that the world was warming; even oil companies have net-zero pledges now, and "climate denier" is a much dirtier word than it used to be. Lawmakers can no longer simply stick their head in the sand and pretend nothing is happening. Instead, they're trying to make ESG seem "woke," in the hopes of attacking climate policy without seeming like they're out of touch with the science or refusing to acknowledge how the world is changing. It's all part of Republicans' long game of delaying climate action while it gets hotter and hotter outside.
And despite the legislative failures laid out in the Pleiades Strategy report, the state-level ESG fight isn't over. More than three dozen of the 165 bills will be readopted in the next legislative sessions, the report says, while one GOP presidential contender, Vivek Ramaswamy, has built his entire campaign around defeating ESG. Sounds like we're going to be hearing a lot more about ESG in the months to come—until Fox News moves on to its next "woke" obsession, that is.
Good News
A county in Oregon filed a lawsuit last week against more than a dozen fossil fuel companies and lobbying groups, including ExxonMobil, Shell, Peabody Energy, and the American Petroleum Institute, alleging that the 2021 heat wave that killed hundreds in the Pacific Northwest was a "direct and foreseeable consequence" of these companies' decisions to sell oil, gas, and coal while obscuring what they knew about climate change.
Bad News
There are more mosquitoes in everyone's future. The number of "mosquito days"—days with high temperatures and humidity that are ideal for the bugs to thrive—have increased in more than 70 percent of the United States since 1979, a new report from Climate Central has found. (This week, the Centers for Disease Control and Prevention issued an alert that malaria cases had been reported in the U.S. for the first time in two decades.)
Stat of the Week
$10.3 billion
That's the amount of the settlement chemical giant 3M reached last Thursday with hundreds of cities and towns across the U.S. The money, which will be paid out over 13 years, is in response to thousands of lawsuits alleging pollution from PFAS, a.k.a. "forever chemicals," in municipal water supplies.

Elsewhere in the Ecosystem
The Hidden Cost of Gasoline: Gas stations caused a $20 billion toxic mess—and it's not going away.
Oil sold at gas stations doesn't just destroy the environment once it gets into your car. Underground storage tanks can also be hugely damaging to soil and water, a joint investigation from Grist and Crosscut has found:
Much of this pollution has been stagnant for decades. Forty years ago, steel storage tanks began corroding, setting off a slow-motion environmental disaster all over the United States. Leaks often weren't discovered until long after petroleum had poisoned the groundwater, when neighbors of gas stations began complaining that the water from their taps smelled like gasoline. In 1983, the EPA declared leaking tanks a serious threat to groundwater, and Congress soon stepped in with new regulations. One of the largest spills was in Brooklyn, where a 17 million-gallon pool of oil gradually collected beneath a Mobil gas station—a larger spill than the Exxon Valdez disaster in 1989, when a tanker ran aground in Alaska and poured oil into Prince William Sound.

Fast-forward to today, and more than half a million leaks have been confirmed around the country. The Government Accountability Office estimated in 2007 that the total bill for cleanups would top $22 billion. Those old, decrepit storage tanks have left a legacy: overgrown, empty lots that real-estate developers don't want to touch. Of the roughly 450,000 brownfields in the country, nearly half are contaminated by petroleum, much of it coming from old gas stations.
Read Kate Yoder's full report at Grist.
This article first appeared in Life in a Warming World, a weekly TNR newsletter authored by contributing deputy editor Molly Taft. Sign up here.