Giuliani Says Key Biden Informant Is Dead
The Biden whistleblower can't come to the phone right now. Why? Oh, 'cause they're dead!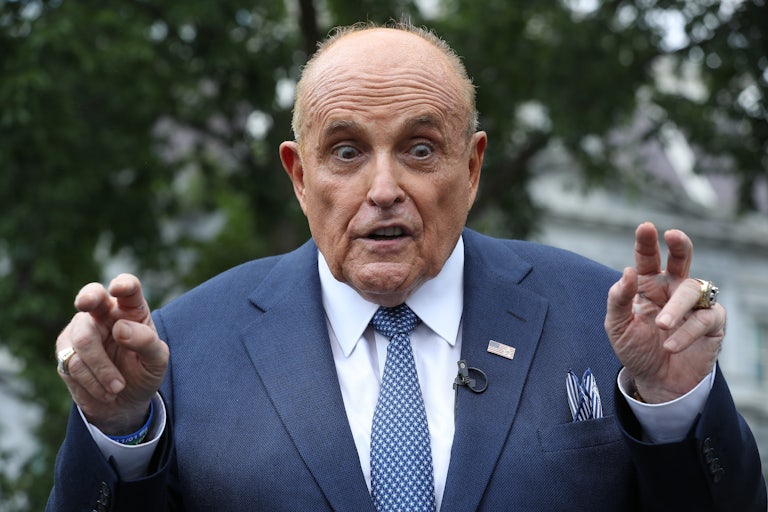 Photo by Chip Somodevilla/Getty Images
Former Trump lawyer Rudy Giuliani
There's a new wrinkle in the Republicans' totally legitimate investigation into Joe Biden: One of their informants is apparently dead, according to Rudy Giuliani.
Republicans have spent all week accusing the president of accepting a massive bribe from Ukraine (conveniently at the same time that Donald Trump was arrested for allegedly stealing and hiding classified documents), and have referred a number of times to a set of recordings that they claim prove his guilt. The GOP learned about these supposed recordings as part of the House Oversight Committee's months-long investigation into the Biden family, which has yet to produce any actual evidence linking the president to wrongdoing.
House members were allowed last week to see a redacted version of an FD 10-23, a form the FBI uses to note unverified information from confidential sources. Several Republican lawmakers say that not only does the FBI form they saw last week mention this bribe but that a Burisma executive has audio recordings of Biden and Hunter Biden accepting the money. Both Anna Paulina Luna and Marjorie Taylor Greene said that the executive is Burisma owner Mykola Zlochevsky.
But according to Rudy Giuliani, the executive is actually the wife of Burisma co-founder Mykola Lisin. Giuliani told Newsmax over the weekend that Lisin died under suspicious circumstances. He seemed to imply the businessman left the recordings to his wife, but she died before the FBI could interview her.
The FBI "followed up on none of the evidence I gave them," Giuliani said. "I gave them one witness that any investigator would jump through hoops to go to. Gave them a witness who is a woman, who is the chief accountant at this crooked company Burisma."
"She was the wife of the former owner, who died under suspicious circumstances. And she was willing to give up all of the offshore bank accounts, including the Bidens'!"
Only right-wing outlets have reported Lisin's wife's death. Lisin died in a car crash in 2011—well over a decade ago. Hunter Biden didn't join the board of Burisma until 2014. And the $10 million bribe Republicans keep mentioning, first pushed by Giuliani and Donald Trump, supposedly occurred in 2016.
What's more, the FBI did investigate Giuliani's claim. The bureau, alongside a U.S. attorney appointed by then-President Trump, had reviewed the bribery accusation when it was made in 2020 and found it to be unsubstantiated.
The GOP investigation into Biden is rapidly going off the rails. Multiple Republicans have admitted they don't know if the recordings even exist, while House Oversight Chair James Comer, who is leading the probe, said he doesn't know if the audio is "legit."
Comer also can't keep track of his informants, while his colleagues are begging more informants to come forward. But given how many informants they supposedly have, it sounds like they can spare a couple.