A decade ago, Alexander, North Dakota was a sleepy town of weatherworn ranch houses and dusty red roads nestled between the wheat, corn, and soybean fields of northwestern North Dakota. But in 2007, when engineers unlocked the vast oil reserves hidden beneath the Bakken shale formation, Alexander was transformed into a frontier boomtown. Some 12,000 oil trucks and cars rattled through town each day. A new trailer court was built to accommodate all the oil workers and their families who were flocking to the area. And for the first time since 1987, during the state's last oil boom, Alexander High School had enough students to cobble together a six-man football team: the Comets.
In September 2015, Andrew Cullen, a photographer based in Bismark, North Dakota, traveled to Alexander to document the team. "It was a sweet story about a small town that regained something it had lost," he says. In the above photograph, freshman players Carlton Turnquist and Alejandro Constantino travel to a game in nearby Fairview, Montana. Turnquist was born and raised on a farm in Alexander; Constantino's family moved there from California to cash in on the boom.
The Comets went 2-5 last season. The town hasn't fared much better. By the time Cullen arrived, oil prices were in freefall. Since then, jobs have dried up and many families have left, including the Constantinos, who moved to Texas to find work. And even if Donald Trump revives the Dakota Access Pipeline, jobs in the state may continue to disappear. "During the bust, the oil industry got really good at minimizing their expenses and the manpower they need to produce oil," Cullen says. "That's something Trump can't do anything about."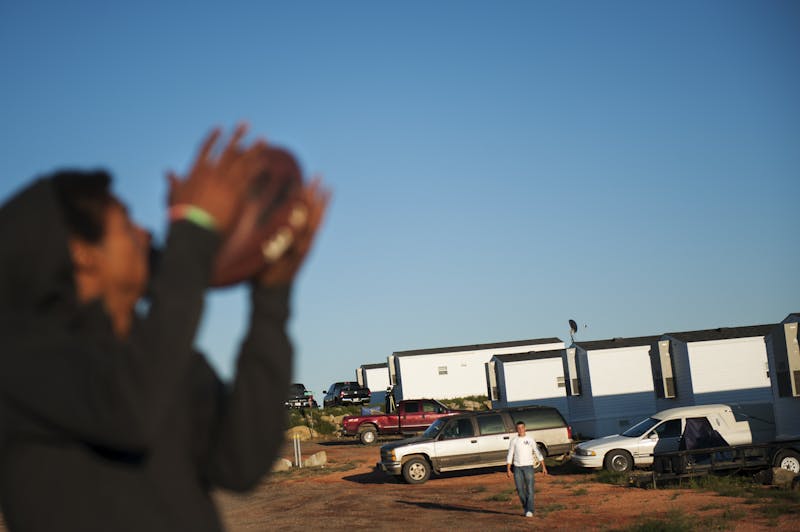 Jayy Morgan catches a pass from teammate Jonathon Jacoby in the Dakotaland Lodging development on the outskirts of Alexander. The trailer court sprang up to house families attracted by the Bakken's booming economy during and after the recession. Jacoby's family came from Arkansas; Morgan's from California. A year later, when the oil jobs dried up, Jacoby returned to Arkansas.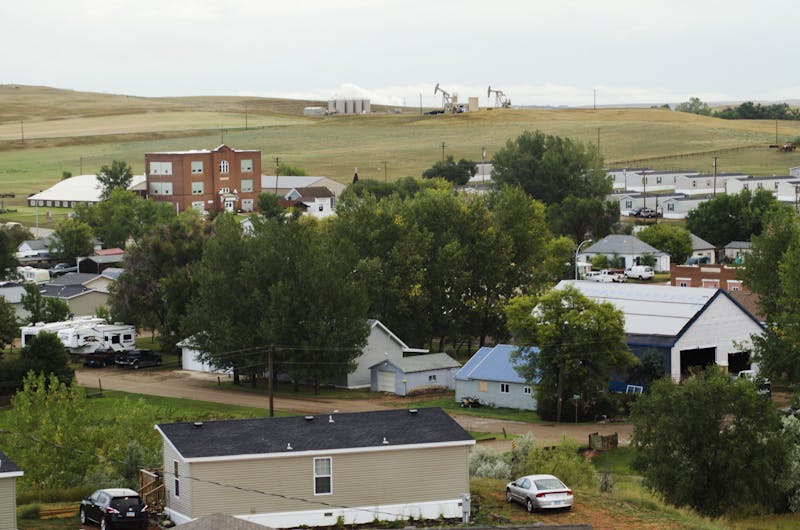 Oil pump jacks on a hill above Alexander. Nestled among farms and ranches in northwestern North Dakota, the town was home to just a few hundred people before fracking technology made pumping oil from the Bakken shale formation profitable in the mid-2000s.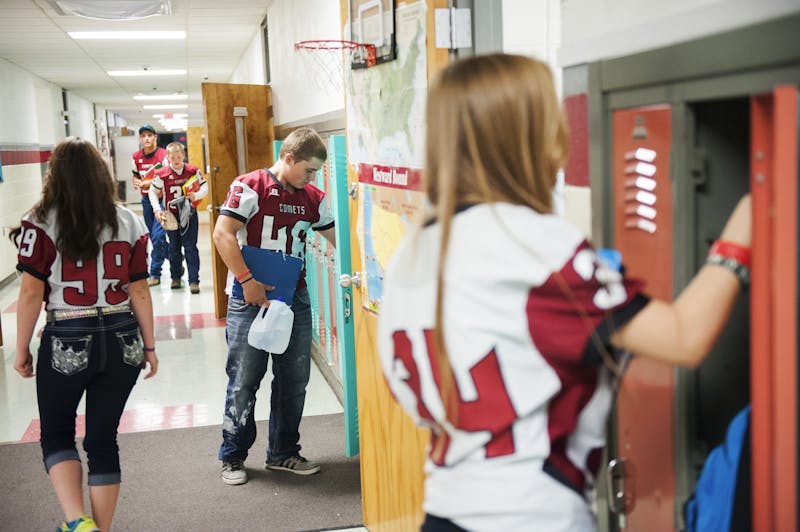 As more families moved to Alexander, the town's K-12 school grew from 55 students in 2008 to over 200 in 2015—enough to cobble together a six-man football team: the Comets. It included Ryan Bergstrom, center. The day before their first game, female students wore football jerseys to class.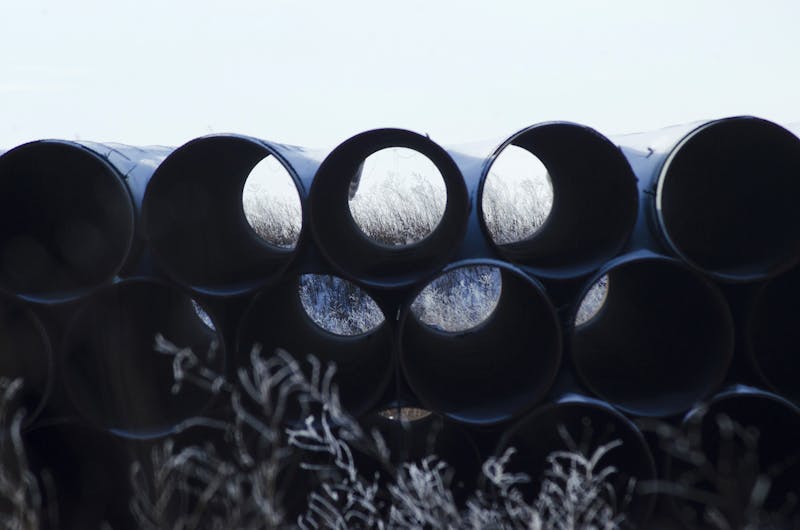 Crashing oil prices meant many oil workers in the Bakken lost their jobs and left. But today, with oil prices stabilized and President Trump in office, these pipes—meant for Keystone XL pipeline—may soon be put to use. In Alexander and around the Bakken, the mood is tentatively optimistic.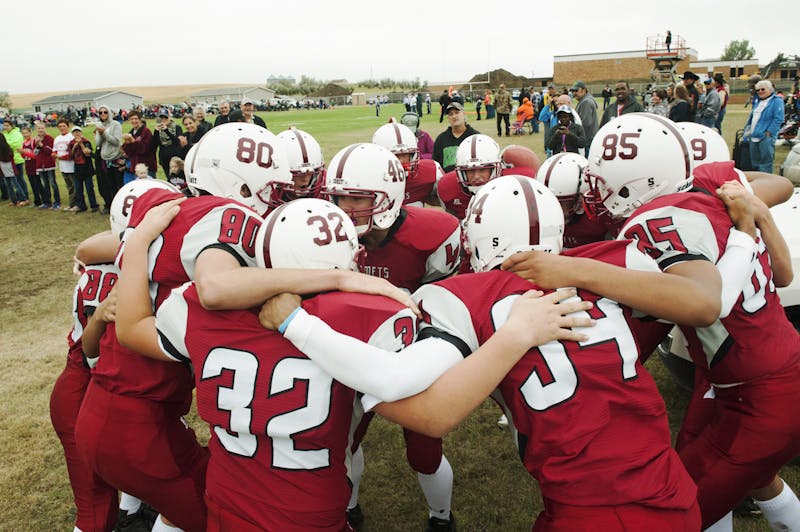 The Comets huddle before their first game of 2015 as community members look on. They lost the game and went a combined 3-12 over their first two seasons. With the town's student population once again in decline, the school is now considering consolidating its athletic program with another rural school's.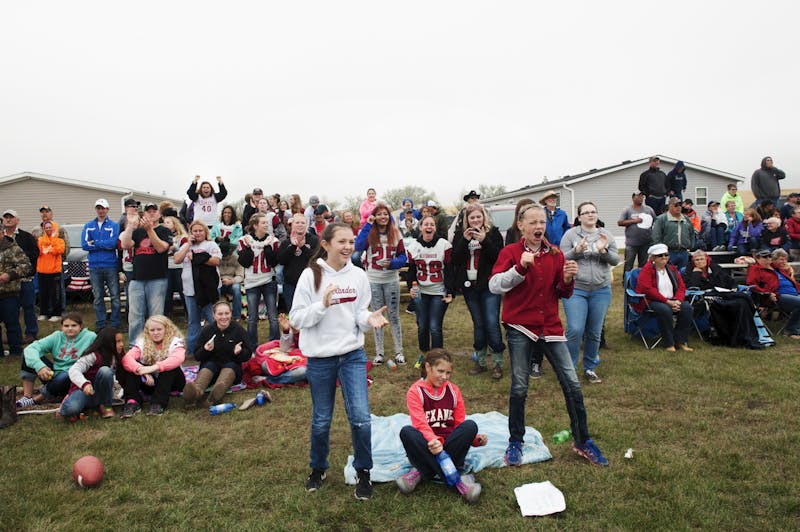 Alexander students cheer their team. The town has always been closely knit, a sentiment that remains in spite of the changes brought—and sometimes taken away—by the industry.