In Makause, a sprawling settlement of overcrowded shacks built on an abandoned gold mine, some 30,000 residents face the leafy streets and gracious homes of Primrose, an affluent suburb of Johannesburg. Separated only by a narrow highway, the two neighborhoods offer a stark reminder that, 22 years after apartheid was abolished, South Africa is still defined by massive inequality and stark segregation.

This is where apartheid was born. When British financier Barney Barnato arrived in Johannesburg, not long after miners struck gold there in 1886, it was little more than a tent city, with a single hotel and a handful of saloons. The following year, Barnato founded his first mine just outside the settlement, and named it after his daughter, Primrose. The city's fault lines were quickly established: Black Africans lived in cramped barracks, set apart from affluent whites.
Today, the residents of Makause live sardined in small shacks constructed from corrugated tin, scrap metal, and wooden planks. The ground is contaminated with toxic chemicals. Water was not available until 2008, when two pumps were installed. Fires are common. One, in 2012, destroyed 18 homes before fire trucks lingering across the street in Primrose finally arrived.
Photographer Johnny Miller moved to South Africa that year and set out to chronicle the country's segregation from the skies. "Drones have an incredible ability to transform how we see the world," he says. "There is an electricity in the air in South Africa right now, a nervous tension. People are tired of relying on platitudes and promises from 22 years ago. They want to see change."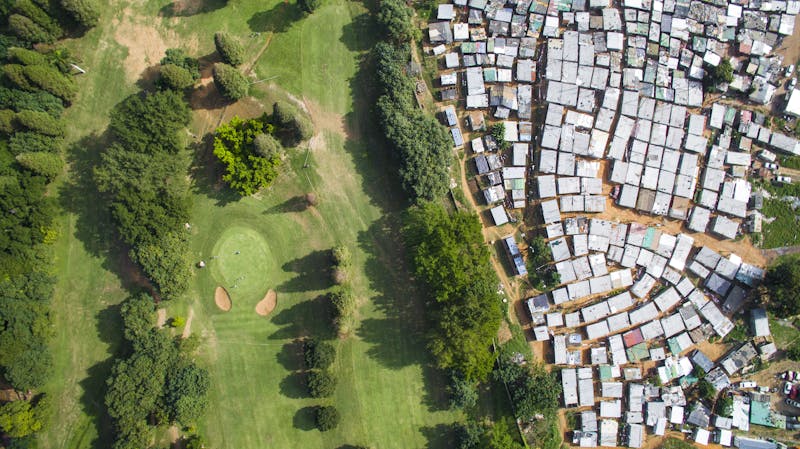 A sprawling settlement borders the Papwa Sewgolum Golf Course in Durban.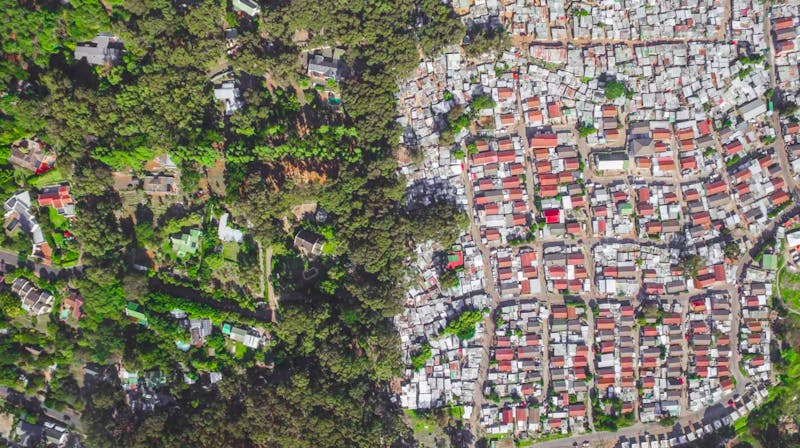 The settlement of Imizamo Yethu in Hout Bay has few toilets and no sewage system for its more than 15,000 residents. The shacks are just a stone's throw from sprawling homes.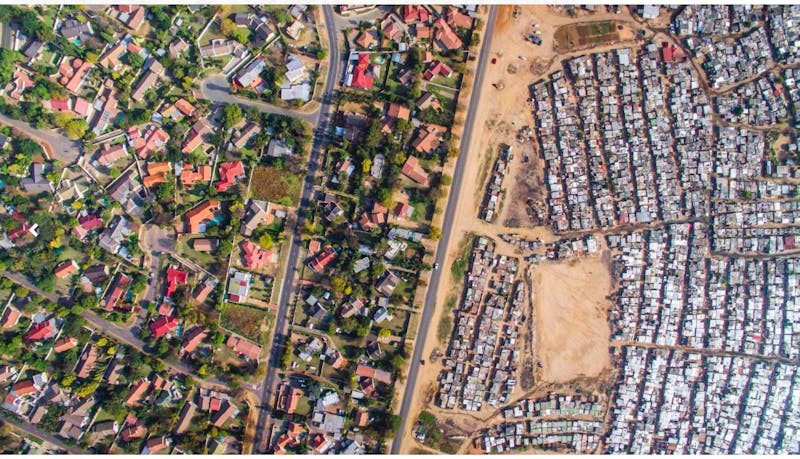 Leafy trees and swimming pools in the middle-class suburb of Bloubosrand border the Kya Sands settlement in Johannesburg.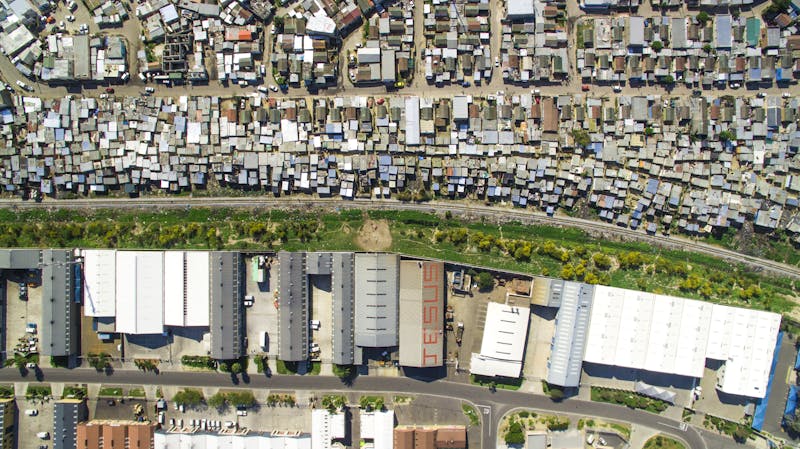 The Killarney industrial park borders Dunoon, an informal settlement on the northern outskirts of Cape Town.